Memoriam - The Hellfire Demos - EP
Click image to enlarge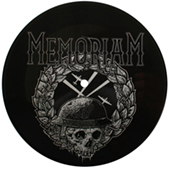 Label: Cosmic Key Productions
Picture Disc

Price: 8.99 Euro 5.99 Euro
33% DISCOUNT



Cosmic Key Creations is exxxxtremely proud and honoured to release a 2nd pressing of the MEMORIAM – THE HELLFIRE DEMO'S 7". This 2017 repress comes on PICTURE DISC 7" vinyl in a heavy pvc bag with flap and a double sided insert. This time the lyrics are included.

WAR IS COMING!!!

This special forces elite combat unit consists of:
Karl Willetts (Bolt Thrower)
Frank Healy (Benediction, Sacrilege)
Scott Fairfax
Andy Whale (ex Bolt Thrower)

Death metal the way it was supposed to be… Two songs filled with fire, power and passion! Brutal, raw, epic and bombastic!



Tracklist:
A1: War rages on
B1: Resistance



More information about Memoriam
Also available from Cosmic Key Productions
More information about Cosmic Key Productions