BROWSE
INFO & CONTACT
Breakdown
In Store

There are 5 titles from Breakdown in store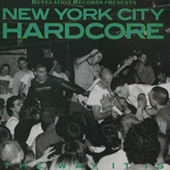 NYC Hardcore: The Way It Is
Compilation CD


NYC Hardcore: The Way It Is
Compilation CD
Revelation Records

The V/A 'New York City Hardcore: The Way It Is' full-length is considered by many to be a classic, documenting NYHC as it was in 1988. More than just a straight-edge collection, it compiled bands from all facets of the hardcore scene including Bold, Nausea, Warzone, Gorilla Biscuits, Trip 6, Breakdown, Youth Of Today, Sick Of It All, Krakdown, Side By Side, Youth Defense League and Supertouch. Comparable to Boston's 'This Is Boston Not LA' or Washington, DC's 'Flex Your Head,' 'New York City Hardcore: The Way It Is' helped push New York to the forefront of the American hardcore scene.


Tracklist:
01. Bold - Wise Up
02. Nausea - Fallout Of Our Being
03. Warzone - As One
04. Warzone - Escape From Your Society
05. Gorilla Biscuits - Better Than You
06. Gorilla Biscuits - Forgotten
07. Trip 6 - Back With A Vengeance
08. Breakdown - Sick People
09. Youth Of Today - Together
10. Youth Of Today - Understand
11. Sick Of It All - Politics
12. Sick Of It All - Pete's Sake
13. Krakdown - Ignorance
14. Side By Side - Dead Serious
15. Side By Side - Time Is Now
16. Youth Defense League - Blue Pride
17. Supertouch - Searchin' For The Light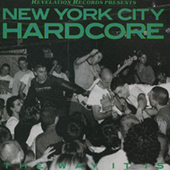 NYC Hardcore: The Way It Is
Compilation LP


NYC Hardcore: The Way It Is
Compilation LP
Revelation Records

The V/A 'New York City Hardcore: The Way It Is' full-length is considered by many to be a classic, documenting NYHC as it was in 1988. More than just a straight-edge collection, it compiled bands from all facets of the hardcore scene including Bold, Nausea, Warzone, Gorilla Biscuits, Trip 6, Breakdown, Youth Of Today, Sick Of It All, Krakdown, Side By Side, Youth Defense League and Supertouch. Comparable to Boston's 'This Is Boston Not LA' or Washington, DC's 'Flex Your Head,' 'New York City Hardcore: The Way It Is' helped push New York to the forefront of the American hardcore scene. Now available again on vinyl.


Tracklist:
01. Bold - Wise Up
02. Nausea - Fallout Of Our Being
03. Warzone - As One
04. Warzone - Escape From Your Society
05. Gorilla Biscuits - Better Than You
06. Gorilla Biscuits - Forgotten
07. Trip 6 - Back With A Vengeance
08. Breakdown - Sick People
09. Youth Of Today - Together
10. Youth Of Today - Understand
11. Sick Of It All - Politics
12. Sick Of It All - Pete's Sake
13. Krakdown - Ignorance
14. Side By Side - Dead Serious
15. Side By Side - Time Is Now
16. Youth Defense League - Blue Pride
17. Supertouch - Searchin' For The Light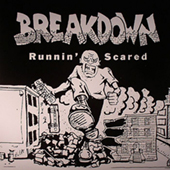 Breakdown
Runnin' Scared LP
Painkiller Records

540 Records and Painkiller present one of the most important and, yep, best New York hardcore recordings on vinyl for the first time EVER with "Running Scared." On this 540 and Painkiller split release you will find the "Runnin' Scared" demo from 1988, recorded in The Loft studios in Bronxville, near the parkway, and previously unreleased versions of "All I Ask" and "Hold Me Back" - the latter basically a new Breakdown song that you can't get anywhere else except for this thing - and their WNYU session from 1989. The demo is as good as any hardcore record ever and the band is as good as any band.


Tracklist:
01. Dissed + Dismissed (demo)
02. All I Ask (demo)
03. What It Is (demo)
04. Breakdown (demo)
05. Down For The Count (demo)
06. All I Ask (previously unreleased)
07. Hold Me Back (previously unreleased)
08. Don't Give Up (live)
09. Kickback (live)
10. Life Of Bullshit (live)
11. You Gotta Fight (live)
12. Your Problems (live)
13. Vengeance (live)
14. Hold Me Back (live)
15. Labeled (live)
16. Safe In A Crowd (live)
17. Sick People (live)
18. Pipe Dream (live)

Listen to a sample: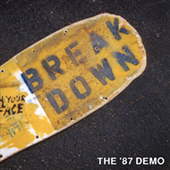 Breakdown
The '87 Demo LP
540 Records

540 Records and Painkiller have teamed up once again to bring you the other half of the legendary "Breakdown; Both Demos" series: the legendary '87 demo. Breakdown's original 1987 lineup was only together for a few short months, but in that time they produced one of the most legendary and influential recordings in the history of New York hardcore. Paving the way for every hard and heavy band to follow, Breakdown's take on hardcore was balanced with the perfect mix of hip hop's bounce, the power and dynamics of heavy metal and an unmistakable New York accent laced across a tough, streetwise sound that could only have come out of 1980s New York City. This LP contains the full, nine-song '87 demo, released here for the first time on vinyl in its entirety, backed with a crushing live set recorded on WNYU radio's Crucial Chaos during the summer of 1987. Both recordings have been faithfully restored from original sources and sound better than ever. Includes a full-color, 12" x 24" poster insert with extensive notes and anecdotes from members of the NYHC scene.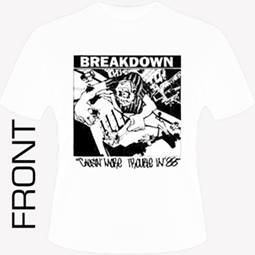 Breakdown
Causin' More Trouble In '88 Shirt
Shop Shogun