DVD's
There are 14 DVD's in stock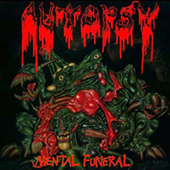 Autopsy
Mental Funeral: Special Edition CD+DVD


Autopsy
Mental Funeral: Special Edition CD+DVD
Peaceville Records

One of the early breed of US death metal acts, Autopsy formed in 1987 in San Francisco, & released 4 albums on Peaceville Records - beginning with the classic debut "Severed Survival" in 1989 - before disbanding in 1995, with members going on to form Abscess. Autopsy triumphantly & officially returned from the grave after a 15 year hiatus with the 2010 EP, "The Tomb Within2, along with a trio of festival headline appearances. This was followed by the release of the band's fifth studio album, "Macabre Eternal" in 2011, to great acclaim, as well as more live festival performances throughout the US & Europe.


Tracklist:
CD Disc 1.
1. Twisted Mass Of Burnt Decay
2. In The Grip Of Winter
3. Fleshcrawl
4. Torn From The Womb
5. Slaughterday
6. Dead
7. Robbing The Grave
8. Hole In The Head
9. Destined To Fester
10. Bonesaw
11. Dark Crusade
12. Mental Funeral

DVD Disc 2.
Autopsy live – Rotterdam, Holland 1990
1. Disembowel
2. Retribution For The Dead
3. Embalmed
4. Destined To Fester
5. Gasping For Air
6. In The Grip Of Winter
7. Charred Remains
8. Ridden With Disease

Autopsy live - San Pedro, California 1991
1. Twisted Mass Of Burnt Decay
2. In The Grip Of Winter
3. Gasping For Air
4. Severed Survival
5. Hole In The Head
6. Fleshcrawl
7. Torn From The Womb
8. Fiend For Blood
9. Service For A Vacant Coffin
9. Embalmed
10. Destined To Fester
11. Robbing The Grave
12. Charred Remains

Listen to a sample: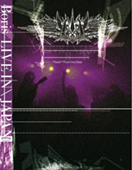 Boris
Live In Japan DVD
Southern Lord Records

Live In Japan is the first official domestic live BORIS DVD to be unleashed! The power, majesty and unique psychedelia that only Boris can deliver is perfectly captured in this stunning visual document. Professionally filmed on the last show of the their worldwide Smile tour 2008. 'Light dazzled eyes, cut off the view a lot of smoke, and making loud noise can destroy the delicate environment can monitor everything that is Boris.'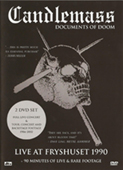 Candlemass
Documents Of Doom 2xDVD
Flying Dolphin


Tracklist:
DVD 1 (Live At Fryhuset 1990)
01. The Well Of Souls
02. Dark Are The Veils Of Death
03. Bewitched
04. Solitude
05. Dark Reflections
06. Under The Oak
07. Demons Gate
08. Bells Of Acheron
09. Through The Infinite Halls Of Death
10. Samarithan
11. Mirror Mirror
12. At The Gallows End
13. A Sorcerers Pledge

DVD 2 (Documentary Of Doom)
1. Sweden Rock Festival 2002
2. Greece 2002
3. Bang Your Head 2002
4. Wacken 2002
5. Oslo 2002
6. London 2002
7. London 1988
8. First Gig 1987
9. Dynamo Open Air 1988
10. Top Gear 1989
11. London 1989
12. US-Tour 89/91
13. Poland 1991
14. Sweden 1991

Special Features:
DTS
Dolby Digital 5.1
Band Commentary
Biography
Discography
Image Gallery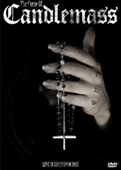 Candlemass
The Curse Of Candlemass 2xDVD
Flying Dolphin


Tracklist:
1. Intro
2. Demons Gate
3. Dark Reflections
4. The Well Of Souls
5. Into The Unfathomed Tower
6. Ancient Dreams
7. The Bells Of Acheron
8. Witches
9. Mirror Mirror
10. A Cry From The Crypt
11. Mourners Lament
12. Black Stone Wielder
13. Solitude
14. At The Gallows End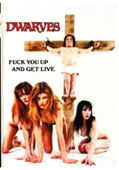 Dwarves
Fuck You Up And Get Live DVD


Dwarves
Fuck You Up And Get Live DVD
MVD

Notorious for their ferocious live performances spanning over two decades, the Dwarves have rocked and offended audiences the world over. This sinful 19- song performance DVD was filmed at the legendary Continental Club in NYC on October 18, 2004 and includes several extra music videos like "Over You", "We Must Have Blood", "Bleed On", "Pimp", and "Way Out" as well as alternate camera angles of the show. In this age of prepackaged punk and ready-made rebellion, the Dwarves remain fiercely independent and unrepentant to the end... This DVD supplies all the crazy-ass bullsh!t you've come to expect from this band of degenerate f*#ks. Massacre Intro, Dominator, FEFU, I Will Deny, Everybody's Girl, Like You Want, Relentless, Salt Lake City, Anybody Out There, Way Out, Over You, You Gotta Burn, Act Like You Know, How It's Done, Back Seat of My Car, Detention Girl, Astroboy, Must Have Blood, Unrepentant BONUS VIDEO CLIPS:We Must Have Blood, Bleed On,He Who, Pimp, Way Out, Split Screen Option!


Heresy
1987 DVD
Boss Tuneage Records

HERESY need little introduction – legendary UK Hardcore pioneers, in their brief existence from 1985-1989 they defined an era. To co-incide with a trilogy of collectors CD/LP reissues of their recorded output, Boss Tuneage is proud to present this wonderful collectors archive DVD. Filmed totally DIY punk style on a single camcorder by their tour manager, "1987" follows the band on a tour of Belgium and Holland, featuring ultra rare live appearances and 17 full out blasting live songs to frenzied crowds! In addition to this, there are also some classic never seen before "behind the scenes" footage of the band and roadies which shows the bands humorous side too! There is also some remarkable archive footage of the band in the recording studio, recording the legendary "Thanks" 7" single! A must for those who there at the time, or any fan of this legendary UKHC Band, caught at the top of their game! Please note: This DVD has been digitally restored as best as possible from the original 20 year old video cassette tape, but this is a true DIY punk lo-fi recording, and not a multi-camera angle swish MTV affair!!


Tracklist:
1. Release
2. Network of Friends
3. Make the Connection
4. Trapped in a Scene
5. Visions in Fear
6. Make the Connection
7. Path to Decadence
8. Never Healed
9. Nausea
10. Path to Decadence
11. Dead
12. Release
13. Network of Friends
14. Belief
15.Despair
16. Visions in Fear
17. Make the Connection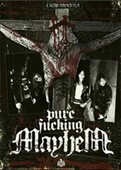 Mayhem
Pure Fucking Mayhem DVD
Lupus Lounge Records

"Pure Fucking Mayhem" is an impressive account of the history of this legendary band, clearly focussing on the years 1985-1993 with their tales of unrelenting, brutal Black Metal and bloody crimes. Including exclusive interviews with, amongst others, Necro Butcher, Attila Csihar, and Manheim, this documentary attains a maximum of authenticity, and with rich, often unreleased footage, it brings MAYHEM's infamous story to gruesome life. The DVD will also feature a bonus CD comtaining the documentary soundtrack - calm piano versions of old MAYHEM classics.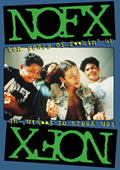 NoFX
Ten Years Of Fuckin Up DVD


NoFX
Ten Years Of Fuckin Up DVD
Fat Wreck Chords

A ten year history of NOFX that was once only available on video tape is now available on DVD! See exclusive footage that spans the formative years of everyones favorite punk band. Take a glimpse at the true building blocks of NOFX. From their very first tour in 1985 (see the band play to 15 people in a field), to Fat Mike's wedding. This thing is packed full of fun! We didn't want to stop there so we used the magic of DVD to include commentary by NOFX. We didn't think that would be quite enough, so Mike got the Vandals to do commentary of the NOFX commentary. This is some funny stuff! (2003)


Tracklist:
1. Stickin In My Eye
2. Johnny B. Goode
3. Green Corn
4. Shut Up Already
5. Shower Days
6. Gonoherpa Syphilaids
7. Straight Edge
8. S/M Airlines
9. Six Pack Girls
10. The Longest Line
11. Buggley Eyes
12. Beer Bong
13. Leave It Alone
14. Jaundiced Eye
15. Johnny Appleseed
16. Moron Brothers
17. Iron Man
18. Bob
19. Kill All The White Man

Rancid
Let The Dominoes Fall 2xCD+DVD


Rancid
Let The Dominoes Fall 2xCD+DVD
Epitaph Records

Terror
Always The Hard Way CD+DVD


Terror
Always The Hard Way CD+DVD
Reaper Records

Defiant Music is born, Terror's own label, with the help of Reaper Records handling the distribution of the albums. This reissue comes with bonus material and new artwork. Terror hunkered down at Planet Z Studios in Massachusetts to record their second full-length, "Always The Hard Way" Vinyl version includes digital download. CD+DVD version includes 180-minute Terror DVD on a bonus disc and two additional tracks.


Tracklist:
01. All For Revenge
02. Strike You Down
03. Survival Comes Crashing In
04. Always The Hard Way
05. Lost
06. Last Of The Diehards
07. So Close To Defeat
08. Test My Convictions
09. Hell To Pay
10. One Step Behind
11. You Can't Break Me
12. Dibbs And Murs Check In
13. Hardship Belongs To Me
14. Smash Through You
15. Back At You (CD only bonus track)
16. Dead End (CD only bonus track)

Listen to a sample: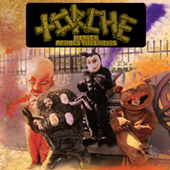 Torche
Healer - Across The Shields LP+DVD
Colored Vinyl


Torche
Healer - Across The Shields LP+DVD
Hydra Head Records

'Healer' and 'Across The Shields' are taken from the full-length 'Meanderthal' from Torche, whose melodic stoner-pop sound has sprung them from 'ex-members of Floor' to a monster all their own. Both B-side tracks 'Mash It Up' and 'Sugar Glider' are exclusive to this release, with the packaging also including a DVD of the music videos for the two title tracks.


Tracklist:
01. Healer
02. Across The Shields
03. Mash It Up
04. Sugar Glider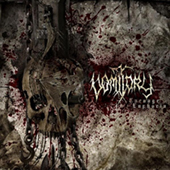 Vomitory
Carnage Euphoria CD+DVD
Metal Blade Records

VOMITORY – in 2009 this name is synonymous with 20 years of death metal, 20 years of merciless brutality and, most importantly, 20 years free of any and all trends, bandwagons and comrpomises! Because let's face it, in these fake, poser-infested times, nothing is more welcome than a band who just plug in their instruments and go for it, taking no prisoners and creating an inferno of giant proportions... This attitude has been running like a thread through the history of VOMITORY. Never in their more than successful career have these Swedes strayed from their chosen path, delivering slab after slab of pure and unadulterated death metal. Their fan base is grateful for this, staying true and unconditional until today. And the new hate platter makes it clear from the get-go: "Carnage Euphoria" - VOMITORY still have pleasure killing. And you can tell at every second of the album. They might do things a tiny bit slower and more straight-ahead nowadays, as compared to the fulminant predecessors "Primal Massacre" and "Terrorize Brutalize Sodomize", but an added dose of deadly groove keeps the level of intensity in the red, as it always has been. "Carnage Euphoria" mows down everyone and everything in its path! Resistance is futile! "Carnage Euphoria" - this is how trend-free old-school Swedish death metal has to sound!


Tracklist:
1. Christ Passion (Sodom)
2. Putrefaction
3. Undivulged
4. Nervegasclouds
5. Chaos Fury
6. Forty Seconds Bloodbath
7. Stray Bullet Kill
8. Autopsy Extravaganza
9. Terrorize Brutalize Sodomize
10. Rotting Hill
11. Gore Apocalyse
12. Under Clouds Of Blood
13. Heresy
14. Primal Massacre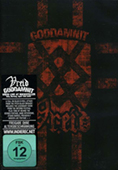 Vreid
Goddamnit DVD
Indie Recordings

On their first ever DVD Vreid launch upon us a full on Black N'Roll attack! The now legendary show from the Inferno Festival 2009 is well documented in its entirety with a great 7-camera production. On top of that the DVD is loaded with behind the scenes footage, band interviews, studio diaries, previously unseen live footage and more! A must have for the true Black N`Roll fan!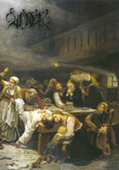 Windir
Sognametal DVD
Tabu Records

The entire Windir performance at the Heidra Valfar concert at Rockefeller, Oslo 3rd of September 2004. Valfar founded Windir in 1994. With Windir as a one man band, he released the albums Soknardalr (1997) & the legendary Arntor (1999). By melting metal and Norwegian folk music, he created his own style, which he referred to as Sognametal, due to the strong lyrical connection to Sogndal. In 2000 he joined forces with his long time friend and neighbour Hváll. together they included all the Ulcus members, and set their minds on developing Windir further. Windir became a massive live act and released the two critically acclaimed albums 1184 (2001) and their greatest success Likferd (2003). Windir was rising and set on recording their 5th album when tragedy struck. Valfar died in the mountains of Sogndal in January 2004. The rest of the members decided that Windir could not continue. Windir died with Valfar. The band released a last album in honour of their fallen warrior, entitled Valfar, Ein Windir. The release of the album was marked by a final Windir concert at a sold out Rockefeller in Oslo, on the 3rd of September 2004. This day would have been Valfar's 26th birthday. Windir guitarist Sture & Valfar's older brother Vegard Bakken performed the vocal at this concert. A decade of Sognametal is summed up on this DVD.


Tracklist:
Windir live clips from the period of 1996 to 2003.
Offstage footage. Interview with Valfar shown on Norwegian national television(NRK).
Picture gallery with both official and private photos.
All songs from the albums Soknardalr, Arntor, 1184 & Likferd.
Stunning cover artwork by the legendary Norwegian painter Abolph Tidemand.