Jerry's Kids
Biography
Formed in 1981 in Boston; Jerry's Kids started out with SS Decontrol, GangGreen, FUs, Freeze and Negative FX and the Boston Hardcore scene became the spotlight of American music. In 1982 a sampler of Boston bands was issued called 'This is Boston, Not LA' the three bands that dominated this sampler were Gang Green, The Freeze and Jerry's Kids all with more than five songs a piece. Jerry's Kids music was heard worldwide and shortly after a follow up-comp was issued with one song by Jerry's Kids, 'Unsafe at Any Speed.' 1983 saw the release of ... Read More
Formed in 1981 in Boston; Jerry's Kids started out with SS Decontrol, GangGreen, FUs, Freeze and Negative FX and the Boston Hardcore scene became the spotlight of American music. In 1982 a sampler of Boston bands was issued called 'This is Boston, Not LA' the three bands that dominated this sampler were Gang Green, The Freeze and Jerry's Kids all with more than five songs a piece. Jerry's Kids music was heard worldwide and shortly after a follow up-comp was issued with one song by Jerry's Kids, 'Unsafe at Any Speed.' 1983 saw the release of 'Is This My World', Jerry\'s Kids debut on X-Claim Records. From the buzz of 'This is Boston, Not LA', Jerry's Kids LP sold 3,000 records with no promotion, then with X-Claim out of the picture, the record went out of print. At this point, Taang! released the record on its German label, Funhouse. With a few lineup changes between Jerry's Kids and Gang Green in late 1988, the band settled on a permanent lineup: Rick Jones: Vocals, Bass Rockin' Bob Cenci: Lead guitar Dave Aronson: Rhythm guitar Jack Clark: Drums . They then recorded the legendary LP Kill Kill Kill & released the Spy Master 7'' in USA & Australia. Kill Kill Kill & Is This My World have been released on Taang in their original version.

Hide biography
In Store

There are 2 titles from Jerry's Kids in store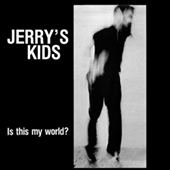 Jerry's Kids
Is This My World? CD
Taang Records

A reissue of the classic 1983 debut album from these pioneers of the Boston hardcore movement. Twelve brutal tracks of harder-than-hard punk rock.


Tracklist:
01. I Don't Belong
02. Cracks In The Wall
03. Tear It Up
04. Crucify Me
05. Break The Mold
06. Raise The Curtain
07. Vietnam Syndrome
08. Build Me A Bomb
09. New World
10. Lost
11. No Time
12. Is This My World


Jerry's Kids
Is This My World? LP
Taang Records

A reissue of the classic 1983 debut album from these pioneers of the Boston, MA hardcore movement. Twelve brutal tracks of harder-than-hard punk rock. Now available on vinyl.


Tracklist:
01. I Don't Belong
02. Cracks In The Wall
03. Tear It Up
04. Crucify Me
05. Break The Mold
06. Raise The Curtain
07. Vietnam Syndrome
08. Build Me A Bomb
09. New World
10. Lost
11. No Time
12. Is This My World?

LOGIN
YOUR SHOPPING CART
NEW MUSIC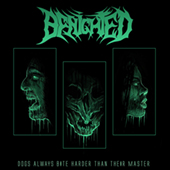 NEW MERCHANDISE