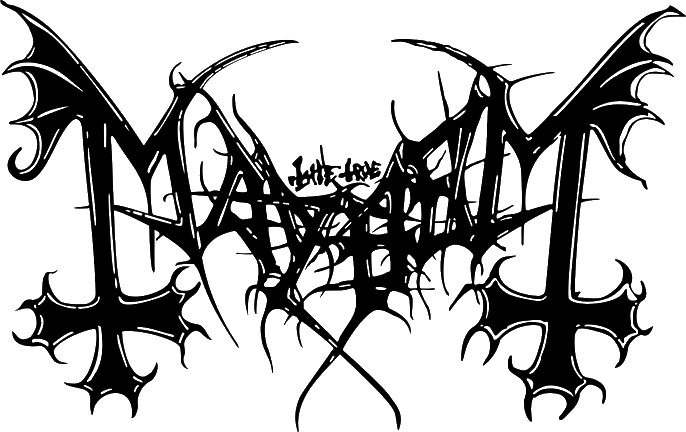 In Store

There are 9 titles from Mayhem in store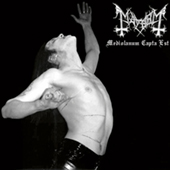 Mayhem
Mediolanum Capta Est CD
Peaceville Records

Mayhem
A Season Of Blasphemy CD boxset


Mayhem
A Season Of Blasphemy CD boxset
Season Of Mist Records

When then-20-year-old guitarist Rune "Blasphemer" Eriksen joined MAYHEM in 1995, the Black Metal band was already a legend - a status due as much to cult releases like "Deathcrush" and "De Mysteriis Dom Sathanas", as to the widely documented murder of previous axeman and band leader Euronymous. With incredibly big shoes to fill and in the wake of the aforementioned tragedy, Blasphemer stepped in and managed to resurrect a broken band. The rest is history: with the young Norwegian as sole composer, MAYHEM released a highly controversial album that ultimately delighted most fans in 2000 ("Grand Declaration Of War"), a traditional Black Metal album in 2004 ("Chimera"), and a mass of dirty-sounding hatred that celebrated the return of iconic vocalist Attila Csihar in 2007 ("Ordo Ad Chao"). This 3-CD set gathers those three cult releases. NONE ABOVE – NONE EQUAL – MAYHEM.


Tracklist:
Grand Declaration Of War:
1. A Grand Declaration of War
2. In the Lies Where Upon You Lay
3. A Time to Die
4. View From Nihil
5. A Bloodsword and a Colder Sun
6. Crystalized Pain in Deconstruction
7. Completion in Science of Agony
8. To Daimonion


Chimera:
1. Whore
2. Dark Night of the Soul
3. Rape Humanity with Pride
4. My Death
5. You Must Fall
6. Slaughter of Dreams
7. Impious Devious Leper Lord
8. Chimera


Ordo Ad Chao:
1. A Wise Birthgiver
2. Wall of Water
3. Great Work of Ages
4. Deconsecrate
5. Illuminate Eliminate
6. Psychic Horns
7. Key to the Storms
8. Anti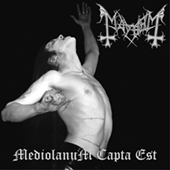 Mayhem
Mediolanum Capta Est 2xLP


Mayhem
Mediolanum Capta Est 2xLP
Peaceville Records

Mayhem
Grand Declaration Of War (2018 remix) LP


Mayhem
Grand Declaration Of War (2018 remix) LP
Season Of Mist Records

Recording completely remixed and remastered from the original master tapes. Black 12" vinyl in deluxe gatefold with golden print. Including 2 page insert with the producer's liner notes. Second pressing 400 copies worldwide.


Tracklist:
Side A
A Grand Declaration of War / In the Lies Where upon you lay / A Time to Die / View From Nihil; Pt. 1 / View From Nihil; Pt. 2

Side B
A Bloodsword And A Colder Sun, Pt. 1 / A Bloodsword And A Colder Sun, Pt. 2 / Crystalized Pain In Deconstruction / Completion In Science Of Agony, Pt. 1 / To Daimonion / Untitled I / Completion In Science Of Agony, Pt. 2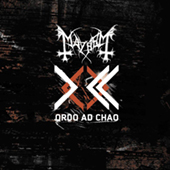 Mayhem
Ordo Ad Chao (black vinyl) LP


Mayhem
Ordo Ad Chao (black vinyl) LP
Season Of Mist Records


Mayhem
Live In Zeitz LP
Peaceville Records

Mayhem
Chimera (silver vinyl re-issue) LP


Mayhem
Chimera (silver vinyl re-issue) LP
Season Of Mist Records

Vinyl Reissue of MAYHEM's 'Chimera' album.


Tracklist:
1. Whore
2. Dark Night of the Soul
3. Rape Humanity with Pride
4. My Death
5. You Must Fall
6. Slaughter of Dreams
7. Impious Devious Leper Lord
8. Chimera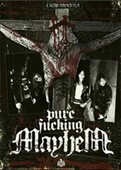 Mayhem
Pure Fucking Mayhem DVD
Lupus Lounge Records

"Pure Fucking Mayhem" is an impressive account of the history of this legendary band, clearly focussing on the years 1985-1993 with their tales of unrelenting, brutal Black Metal and bloody crimes. Including exclusive interviews with, amongst others, Necro Butcher, Attila Csihar, and Manheim, this documentary attains a maximum of authenticity, and with rich, often unreleased footage, it brings MAYHEM's infamous story to gruesome life. The DVD will also feature a bonus CD comtaining the documentary soundtrack - calm piano versions of old MAYHEM classics.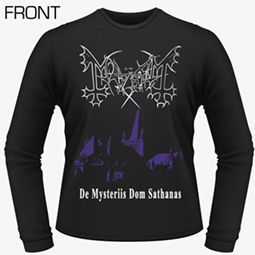 Mayhem
De Mysteriis Dom Sathanas LongSleeve


Mayhem
De Mysteriis Dom Sathanas LongSleeve
PHM

LOGIN
YOUR SHOPPING CART
NEW MUSIC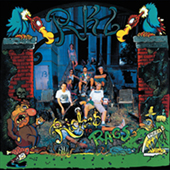 NEW MERCHANDISE