Vinyl
There are 854 Vinyl in stock


Previous Page
-
1
2
3
4
5
6
7
8
9
10
11
12
13
14
15
16
17
18
19
20
21
22
23
24
25
26
27
28
29
30
31
32
33
34
35
36
37
38
39
40
41
42
43
44
45
46
47
48
49
50
51
52
53
54
55
56
57
-
Next Page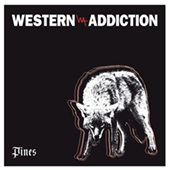 Western Addiction
Pines EP
Fat Wreck Chords

Listen to a sample: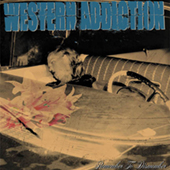 Western Addiction
Remember To Dismember EP
Fat Wreck Chords

Listen to a sample: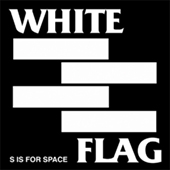 White Flag
S Is For Space 2xLP
Gasatanka Records

25th Anniversary re-issue of Southern California hard core stalwarts White Flag's first release, 'S Is For Space', as a deluxe 2 LP vinyl only limited edition. This 2 record set includes the long out of print original LP, (which was recorded and pressed in December of 1982, but not distributed until 1983), as well as a second vinyl album, pressed in random 'mystery colors', featuring previously unreleased recordings of the band's second and third live gigs. Record two includes their famous first 'real gig', supporting Black Flag, to an army of very angry skinheads in Hemet, California, August 31, 1982. The deluxe packaging features a hand numbered silver foil stamped front cover, heavy duty 5mm spine sleeve, a 12' x 24' reproduction of the original 3' x 4' promotional poster, the original 1983 insert, and a copy of the rare 'borrowed' Raymond Pettibon art flier from the Black Flag support gig. About the band; WHITE FLAG, seminal stalwarts of the Los Angeles California punk rock and roll scene. With a many faceted history that began in the small farm town of Sunnymead, California in 1982 White Flag has released 23 albums, singles and CD's, in countries as varied as South Africa, Japan and the Faroe Islands. The band had the honor of being the ONLY American group ever to play the remote The Faroe Islands. White flag is also the only USA band to ever play Greenland, where White Flag headlined the annual Asiaat Nipia Rock Festival, north of the Arctic Circle. With their well known rotating roster of band members, this tour's line up includes: Pat Fear and Doug Graves, (who founded the band in 1982),12 year veteran Kim Crimson, 12 year veteran El Swe, and the return of the band's second drummer, Victor M. Surrounded, who has not performed with the group since 1982. Other members of the 'White Flag Army' who have recorded or toured as a member of the band, (but are not performing on this tour) have included: Hole's Eric Erlandson and Courtney Love, Pat Smear, Bruce Duff of the Jeff Dahl Group, 45 Grave and The Adz, Javier Escovedo of legendary Los Angeles punk band The Zeros, and Rancid's Tim Armstrong. As a souvenir of the group's first visit to Italy, the band is releasing a limited edition, hand numbered 8 song 10' vinyl album, on Roma based RARO! Records, entitled 'Piangi Con Me.' This release, named after the group's cover version of The Rokes song of the same name (sung in Italian by Pat Fear!), marks the band's first new material to be issued since the 'Eternally Undone' CD, which was released in Italy on Valium Records, in 2003. A video for the first track, 'Somebody's Missing Too,' will be seen on Italian television beginning January 23. A limited edition extend version of the 'Piangi Con Me' release will be available only at the band's Italian shows. It will feature many extra songs not available on the 10' vinyl release. An English language of 'Piangi con Me' will be included, and guest appearances by members of Arthur Lee's Love, Redd Kross, The Muffs (which feature 2 White Flag Army band members!) and Paul Roessler of the legendary Los Angeles band The Screamers. Aside from their infrequent record releases and tours with White Flag, the band members have a varied and colorful musical history. Pat Fear has worked as a songwriter and producer for such artists as Courtney Love's band Hole, NOFX, Pat Smear (of Nirvana/Foo Fighters and The Germs fame), The Go-Go's, Bangles, Redd Kross, Sean Lennon, Ace Frehley of KISS, and Swedish garage punk legends The Nomads. He is also a technical advisor on the currently in production film 'What We Do is Secret,' (starring two long time White Flag fans: 'E.R.' actor Shane West, and Bijou Phillips), as well as being a rodeo bull riding champion, vegetarian, and a member of PeTA. Kim Crimson, (under his real name of Ken Stringfellow) is a sought after producer, when not busy fronting his full time band The Posies, and is one forth of the revamped lineup of the legendary band Big Star, and tours as keyboardist for R.E.M. Doug Graves is a professional surfer on the band supported Team Cleocin Snow and Surf team, and a member of the internationally known 70's disco tribute band 'The Boogie Knights', who were single handedly responsible for starting the campy disco revival fad in The United States. The Boogie Knights are an established club act, with a large 'following' of rock and roll and punk fans, who enjoy the band's irreverent approach to the once hated dance music. They have become much sought after entertainers for private events, and they have performed for private parties for such varied public figures as Tom Cruise, Mick Jagger, and former US President Gerald Ford. El Swe is a member of the popular Swedish band Sator, and is a well respected producer in Scandinavia, having worked on releases by The Hellacopters and The Hives.


Tracklist:
1. Hell In A Handbag
2. Cleocin
3. Video.d.
4. Cheze
5. Gumby
6. R'n'r
7. (first Gig Chaos)
8. Shattered Badge (orig.)
9. Why? Because!
10. Black Sabbath
11. Not All Right
12. Go To God
13. White Flag
14. Joey Chip
15. Mirror, Mirror
16. Live Rap
17. Suzy Secret
18. S Is For Space
19. Do You Like That?
20. Love Me Like A Reptile
21. Hell In A Handbag
22. Cleocin
23. Jesus Loves The Little Children
24. Cocaine
25. White Flag
26. Midnight Rendezvous
27. R'n'r (riot)
28. Hell In A Handbag
29. Go To God
30. White Flag
31. Joey Chip
32. R'n'r
33. Gumby
34. Video.d. (parts 1 & 2)
35. Mirror, Mirror
36. Cheze
37. Cleocin
38. Suzy Secret
39. Black Sabbath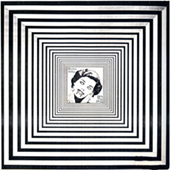 White Lung
It's The Evil LP
Deranged Records

After three critically acclaimed 7"s and a slight line up change, Vancouver, Canada's White Lung deliver their debut album, mixing the punk venom of some of the more notorious Riot Grrrl bands of the '90s with the guitar noodling and tempo of UK post-punk by way of John Reis.


Tracklist:
01. Viva La Rat
02. Atlanta
03. Sleep Creep
04. Two Seen
05. Elf/546 Kids
06. Psychoholic
07. Shoot
08. Loose Heels
09. Like Dad
10. Tale
11. Wild Failure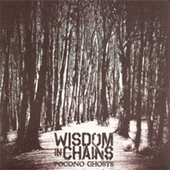 Wisdom In Chains
Pocono Ghosts EP
Reaper Records

While most bands toil for years without ever finding a sound to call their own, Pennsylvania's Wisdom In Chains take the best from their collective cultural heritage and continue expanding their borders. With four solid full-lengths under their belts, they are more than prepared to unleash three new songs full of the solid storytelling and musical diversity Wisdom In Chains has become known for. 'Pocono Ghosts' condenses their progression and dynamic strength somehow onto one 7" EP. 7" includes digital download.


Tracklist:
01. In Case You Forgot
02. Spit It Back
03. R.A.M.O.N.E.S.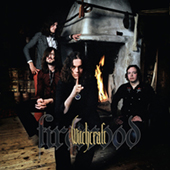 Witchcraft
Firewood LP
Rise Above Records

Firewood is the second album from Swedish Doom Rock legends, Witchcraft. Moving on from where they left off on their cult-classic self-titled 2004 opus, 2005's Firewood gained the band a wider audience, particularly in America. The Sabbath, Pentagram and garage rock influences are still strong and clearly heard, whilst the actual songwriting and production became more defined. Key tracks such as Chylde of Fire and Queen of Bees are firm favourites by fans today and staple additions to the set list. Witchcraft are a band that can swing effortlessly from orthodox Doom to Blues, Folk and Jazz, whilst always remaining shrouded in the cloak of influence from some of the more obscure moments of the 70s cult rock underground. Time has shown that this timeless 2005 release sounds as fresh today as it did back then.


Tracklist:
Side One
1. Chylde of Fire
2. If Wishes Were Horses
3. Mr Haze
4. Wooden Cross (I Can't Wake the Dead)
5. Queen of Bees
6. Merlin's Daughter
Side Two
1. I See a Man
2. Sorrow Evoker
3. You Suffer
4. The Invisible
5. Attention!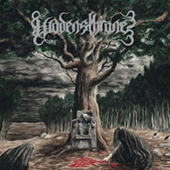 Wodensthrone
Curse 2xLP
Dark Descent Records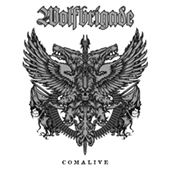 Wolfbrigade
Comalive LP
La Familia Records

Sweden's true masters of D-beat punk continue their domination with 'Comalive,' which doesn't stray far from their patented formula of crusty metallic hardcore with melodic burning spirits and misanthropic lyrics. Now available on vinyl.


Tracklist:
01. Hour Of The Wolf
02. In Adrenaline
03. Ride For A Fall
04. Unknown Road
05. Comalive
06. Deny Tomorrow
07. Skulls Of Doom
08. Barren Dreams
09. High Tech Degradation
10. The Race Of Wrath
11. Web Of Lies
12. Phoenix Rising
13. The Die
14. Reality Lashes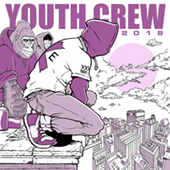 Youth Crew 2018
Compilation EP


Youth Crew 2018
Compilation EP
Positive And Focused Records

The 6th edition of this international 7inch compilation once again features some of world's best youth crew hardcore. Berthold City, USA No Wasted, Indonesia Kind! Crew, USA All In, Australia Bystander, USA Feel The Burn, Indonesia Animal Club, Belgium Protein, Poland

Listen to a sample: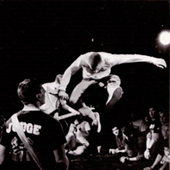 Youth Of Today
Self Titled EP
Revelation Records

The final studio recording from this influential hardcore band. The lyrics on this release have some of the same philosophical and spiritual influences that dominated Ray's next band, Shelter, which recorded its first album the same year. This record has all the energy the band is known for with a glimpse into the ideas that led Ray to move on to form Shelter. New pressing now available on green vinyl.


Tracklist:
01. Disengage
02. Modern Love Story
03. Envy


Zeke
Hellbender LP
Relapse Records

Listen to a sample: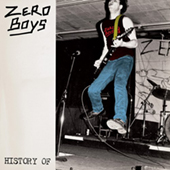 Zero Boys
History Of LP
Secretly Canadian Records

From 1979 into 1983, the Indianapolis based Zero Boys were the finest hardcore blitz in the Midwest if not all the lower 48 states. Proof is 'Vicious Circle' and the two decades since of copyists, bootleggers, practitioners and reunion concert pogoers. Though before and after that LP's 1982 release they recorded the 'Livin' In The '80s' 7', songs for three comps and released the post-mortem 'History Of...' cassette revealing their transformation into a toured band warming to the metaphysical and their demise while still waving torches of rock 'n' roll panache. Those tracks not on the 'Vicious Circle' LP all appear on this collection. Vinyl version includes a coupon that for a limited time allows you to download MP3 audio files of the recordings.


Tracklist:
01. Drive In
02. Black Network News
03. Splish Splash
04. Inergy
05. Johnny Better Get
06. Dingy Bars Suck
07. Seen That Movie Before
08. High Places
09. Blood's Good
10. Human Body
11. Mom's Wallet
12. Positive Change
13. Amerika
14. New Generation
15. Livin' In The '80s
16. Stoned To Death
17. Stick To Your Guns
18. I'm Bored
19. Piece Of Me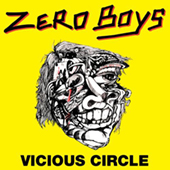 Zero Boys
Vicious Circle LP
Secretly Canadian Records

It came out of nowhere in 1982, this punk rock/hardcore fireball with the bright yellow sleeve. In one sense, The Zero Boys' Vicious Circle was yet another example of how U.S. punk seemed to peak coast to coast that year. But unlike most coastal punk, the Zero Boys were pointing the way to a scene that could accommodate heaping helpings of melody, intelligence, and rock 'n' roll, not just turbo-charged ferocity. Vinyl version contains a coupon that for a limited time allows you to download MP3 audio files of the recordings.


Tracklist:
01. Vicious Circle
02. Amphetamine Addiction
03. New Generation
04. Dirty Alleys/Dirty Minds
05. Civilizations Dying
06. Livin' In The 80's
07. Drug Free Youth
08. Down The Drain
09. Outta Style
10. You Can Touch Me
11. Forced Entry
12. Hightime
13. Charlies' Place
14. Trying Harder
15. She Said Goodbye (bonus track)
16. Slam And Worm (bonus track)


Zyklome A / Moral Demolition
Split EP
Noise And Distortion Records

Previous Page
-
1
2
3
4
5
6
7
8
9
10
11
12
13
14
15
16
17
18
19
20
21
22
23
24
25
26
27
28
29
30
31
32
33
34
35
36
37
38
39
40
41
42
43
44
45
46
47
48
49
50
51
52
53
54
55
56
57
-
Next Page
LOGIN
YOUR SHOPPING CART
NEW MUSIC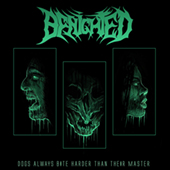 NEW MERCHANDISE