Biography
The Adolescents are an American punk band formed in 1980 in Fullerton, California. It is a punk supergroup, made up of early members of Agent Orange and Social Distortion. Along with Bad Brains, Black Flag, Minor Threat, and many others, they are often credited as one of the leading bands of the 1980s punk revival.

For 29 years after its inception, the Adolescents have had many member changes. The band broke up and reformed twice, sometimes with different guitarists, bass players and/or drummers. Their first break up was ... Read More
The Adolescents are an American punk band formed in 1980 in Fullerton, California. It is a punk supergroup, made up of early members of Agent Orange and Social Distortion. Along with Bad Brains, Black Flag, Minor Threat, and many others, they are often credited as one of the leading bands of the 1980s punk revival.

For 29 years after its inception, the Adolescents have had many member changes. The band broke up and reformed twice, sometimes with different guitarists, bass players and/or drummers. Their first break up was sometime after the release of their 1981 self-titled debut release, which is often considered an influential punk rock album, when some members of the band were involved in their own projects, including Agent Orange and D.I.. However, the Adolescents reunited in 1986 and released two more albums (Brats in Battalions in 1987 and Balboa Fun Zone in 1988) before splitting up again in 1989. The band once again reunited for good in 2001 for a 20th anniversary tour and have continued performing ever since. They released one reunion album (O.C. Confidential in 2005) and are currently writing/recording new material for their next album, which is possibly due for release sometime in 2010.

The band has influenced many of today's later punk groups, including Bad Religion, Face to Face, Good Riddance(2), The Offspring(3), Pennywise(4) and The Vandals.

History

The beginning, first album and hiatus

The Adolescents were formed by Steve Soto after leaving Agent Orange in December 1979. The original line-up was led by frontman Tony Cadena, with Steve Soto on bass, Frank Agnew on guitar, John O'Donovan on guitar and Peter Pan on drums. Both O'Donovan and Pan left in June. Later that year, the group released the classic punk single 'Amoeba' on Posh Boy Records. The track also appeared on the Rodney on the ROQ compilation, assembled by L.A. DJ Rodney Bingenheimer.

The Adolescents signed with Frontier Records in January 1981 and recorded their debut album, The Adolescents, the following month. It quickly became one of the best-selling California punk albums, behind the Dead Kennedys' Fresh Fruit for Rotting Vegetables. Despite this success, Rikk Agnew left the band late 1981. He was replaced by Pat Smear, formerly of The Germs. This lineup lasted until the end of June, when Smear left. Cadena formed The Abandoned, Steve Soto and Frank Agnew joined Legal Weapon, Royer fronted and formed D.I., and Rikk Agnew joined Christian Death.

Rikk Agnew made his solo album in 1983 then joined D.I. with Alfie Agnew, Frank and Rikk's younger brother.

Reunion and second hiatus

1986 The Adolescents reformed with their original line-up and started to work on a new album. Before recording Casey Royer and Frank Agnew left the band. Royer had wanted to keep D.I. going (until 1995), and Agnew lost interest. Sandy Hansen took Royer's place on drums and Alfie took Frank's place on guitar. They recorded Brats in Battalions in the late summer. The record came out in August 1987 due to the band deciding to produce and release the album themselves with little cash or backing.

At the end of 1986 Alfie went to college and his place was taken by Dan Colburn; by the end of the year Cadena and Colburn left.

In 1988 Rikk Agnew and Steve Soto decided to replace Colburn with Paul Casey and start singing themselves. Casey left after four months and Frank Agnew replaced him on guitar, after touring the band recorded their then-final album Balboa Fun Zone.

The Adolescents broke up in April 1989. Steve Soto, Sandy Hansen and Frank Agnew started Joyride and Rikk Agnew did a couple of solo albums.
(edit) Second reunion and the future of the band

The band regrouped to tour for the 20th anniversary of their self-titled album in 2001 and have continued to perform. Live guitarists can vary depending on who is available—their summer 2006 tour had Joe Harrison and Matt Beld in place of the Agnews. They released their first reunion album, O.C. Confidential, in 2005 on Finger Records, a label owned and run by Mel Schantz out of Orange County, California.

In March 2007, bassist Steve Soto confirmed that The Adolescents had begun writing material for their follow-up to O.C. Confidential, which was possibly due for release 'by the end of' that year.(5) In late 2007, The Adolescents announced in a MySpace blog entry that they were working on the new album originally expected to released in the spring of 2008. In March 2009, the band announced that they were in the process of writing lyrics to the album and were to begin recording shortly.

Previous Members

* Alfie Agnew (Guitar 1987)
* Rikk Agnew (Guitar 1979-89, 2001-03)
* Jeff Beans (Bass 1982)
* Dan Colburn (Guitar 1987-89)
* John O'Donovan (Guitar 1979)
* Sandy Hansen (Drums 1987-89)
* Rick Herschbeth (Guitar 1982)
* Peter Pan (Drums 1979)
* Paul (Guitar 1988-89)
* Steve Roberts (Guitar 1981-82)
* Casey Royer (Drums 1979-87)
* Pat Smear (Guitar 1981)
* Frank Angew Jr. (Guitar 2006-07)
* Derek O'Brien - Drums (2001-08)
* Warren Renfrow- Bass (2007 and 2008 European tours

Current members

* Tony Cadena - Vocals (1979-81, 1986-87, 2001-present)
* Steve Soto - Bass (1979-81, 1986-1989, 2001-present), Vocals (1988-89), Guitar (2007 and 2008 European tours)
* Frank Agnew - Lead Guitar (1980-81, 1986, 1988-89, 2001-present)
* Mando Del Rio - Drums (2008-present)
* Joe Harrison - Rhythm Guitar (2006-present)
* Mike McKnight- Rhythm Guitar (2009- present)

The line-up always consists of two guitarists, but this varies from show to show, depending on performer's availability.

References

1. ^ a b allmusic.com
2. ^ 'Good Riddance at Allmusic.com'. Allmusic.com. http://www.allmusic.com/cg/amg.dll?p=amg&sql=11:jifixq9hld0e. Retrieved April 17, 2007.
3. ^ 'The Offspring at Europunk.net'. Europunk.net. http://www.europunk.net/bands.php?id=552. Retrieved April 17, 2007.
4. ^ 'Pennywise's Profile at Punkrockers.com'. Punkrockers.com. http://www.punkrockers.com/Pennywise. Retrieved March 18, 2008.
5. ^ 'Adolescents Begin Writing New Album'. Ultimate-Guitar.com. http://www.ultimate-guitar.com/news/upcoming_releases/adolescents_begin_writing_new_album.html. Retrieved April 17, 2007.

From Wikipedia, the free encyclopedia

Hide biography
In Store

There are 2 titles from Adolescents in store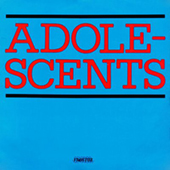 Adolescents
Self Titled LP
Frontier Records

The original Orange County hardcore kids whose classic hooks and teenage angst ('Amoeba' and 'Kids of the Black Hole') paved the way for the mainstream success of Offspring and Green Day. One of Orange County's first punk bands in all their glory. This classic album is full of '80s punk 'hits' and features members who later went on to play in both CHRISTIAN DEATH and D.I.


Tracklist:
01. I Hate Children
02. Who Is Who
03. Wrecking Crew
04. L.a. Girl
05. Self Destruct
06. Kids Of The Black Hole
07. No Way
08. Amoeba
09. Word Attack
10. Rip It Up
11. Democracy
12. No Friends
13. Creatures

Listen to a sample: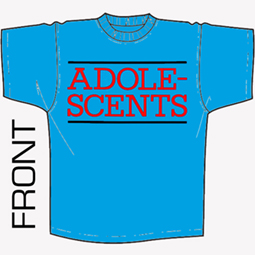 Adolescents
Logo Shirt
Machete

Blue shirt with the logo of the Adolescents on front.