NEW MUSIC
NEW MERCHANDISE
VINYL
CD
DVD
BOOKS & ZINES
SALE
MERCHANDISE
UPCOMING EVENTS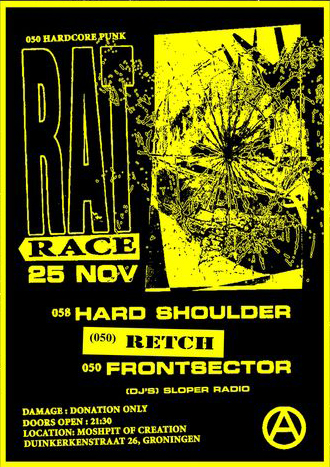 BROWSE
INFO & CONTACT
HARD SHOULDER 7" EP out now!
ORDER 7" EP HERE
ORDER PACKAGEDEAL
New Music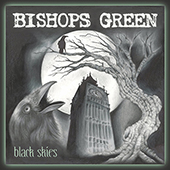 Bishops Green - Black Skies LP
Pirates Press Records
Colored Vinyl

Ultra Clear w/ Black Smoke Vinyl. If the pandemic made you realize that you missed one thing about your connection with punk, there's a decent chance that Bishops Green had something to do with that. This band hits hard and reaches people on a very deep level. Making new fans daily, they continue to connect with scores of people very deeply, even not being able to tour. Yet the true magic in this band is really seeing them live. As the world returns to normal and gigs materialize, more and more people are gonna realize how important this band is to the social fabric of punk rock. The passion they've instilled in fans, and the fervor from within are both equally strong and together are the reason why this band has so much impact to deliver! This album and these songs absolutely set the tone, brilliantly, but there is so much more to come as well. Absolutely no lack of excitement in this maple-leaf-adorned corner of the punk rock world - in fact, quite the opposite! There are seemingly black skies adrift right now, but somehow these songs make you feel like there's a golden future on the horizon! We can all at least sing loud, and hope... First Pressing: 1000pcs. - 12" Black Ice Vinyl 1000pcs. - 12" Milky Clear Vinyl Second Pressing: 1000pcs. - 12" Ultra Clear w/ Black Smoke Vinyl


Tracklist:
A Side
1. Last Minute Warning
2. Empty Streets
3. What For

B Side
4. Ravens Cry
5. Your Paradox
6. No Tomorrow
7. Another Morning


Gevurah - Gehinnom LP
EAL Productions

Spawned forth from the deepest abyss in Montreal, Québec in late 2010, GEVURAH have released in 2016 their highly-acclaimed debut "Hallelujah!", as well as two vicious MLPs, namely "Necheshirion" in 2013 and "Sulphur Soul" in 2018. Now, blood-thirsty and with blades sharpened, the band presents its most intense and scalding release thus far. Somber and vicious Black Metal, yet authentic and efficient in its delivery, "GEHINNOM" is a journey through the physical and metaphysical desert, realm of death and transformation. From the pits of Gehinnom, we tread deeper into the abyss towards the final resurrection, with eyes opened and spirit liberated. Each track represents a step in this process of negating the flesh, linking microcosm with macrocosm and deepening the fall of Man. "A blinding light, radiating from the skies; no man shall see His face and live…" 12″ black vinyl LP, 12 page booklet.

Listen to a sample: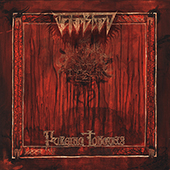 Teitanblood - Purging Tongues LP
Noevdia Records

Due to circumstances beyond our reach, we are no longer able to press this release in the form it has existed so far – including the laser etching that was featured on the b-side of the vinyl. We decided to fully re-brand the release with Dávid Glomba with less cryptic optics yet more visceral and eschatologically visions to echo the terrifying call for repentance at the end of times. In this re-press rather than the etching, the B-side vinyl will include an alternative version of "Purging Tongues".

Listen to a sample: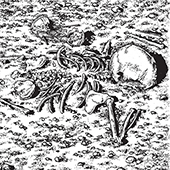 Deathspell Omega - The Long Defeat CD
Noevdia Records

Stand witness to The Long Defeat! Hearken to the first emanation of the third era of DEATHSPELL OMEGA; forty-four minutes of Black Metal enacted through five instalments. Recorded live by the French power trio in July 2021. Bile and venom distilled and added until the leaves fell. "The Long Defeat" unfolds over three parallel storylines told via three different mediums. Two in writing: the lyrics, as well as a fable. The third speaks through the artwork – two metres' worth of maniacally detailed visions depicting the same premise its written content draws from. All three are fundamentally entwined but diverging in narrative, each complementing or contradicting the others. 4 panel digipak, 32 page booklet.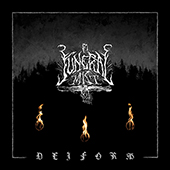 Funeral Mist - Deiform 2xLP
Noevdia Records

The inimitable Funeral Mist – one of the most iconic bands on the NoEvDia roster – has delivered unto us "Deiform". Seven musical pieces contemplating the nature of divinity and mortal existence through the fiery lens of black metal. As did the three past albums, "Deiform" exhibits a completely different approach to sound production compared to its predecessor. Nevertheless, from the first song to the last, the source of this multi-layered madness is unmistakable; all the classic Funeral Mist characteristics are present. Ambitious interludes which are impressive compositions in their own right. Innovative use of various samples which become a living, breathing part of the music. And frenzied oration delivered by what many believe to be the best and most versatile vocalist in black metal. All culminating in spiritual violence in its crudest form. "Deiform" is a holistic experience, in the sense that music, art, and photography – all deriving from the project's mastermind, D Rostén – is connected, and thereby best experienced in unison. Gatefold DLP including a A4 12 pages booklet.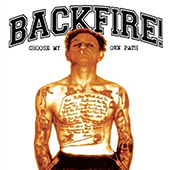 Backfire
Choose My Own Path (splatter vinyl) LP
Colored Vinyl


Backfire - Choose My Own Path (splatter vinyl) LP
Rebellion Records
Colored Vinyl

Last year REBELLION RECORDS already reissued BACKFIRE!'s classic "ALL BETS ARE OFF" album on vinyl and you know what? We will continue to do so! Because aside some all-new BACKFIRE! releases, we have some special, previously unreleased vinyl releases up our sleeves, including the band's '98 "cover" EP "CHOOSE MY OWN PATH"! Of course the title-track is a hard-scorching M-town original only available on this release, but the remaining four tracks pay homage to some of the band's influences, including covers by SLAYER, CRO-MAGS, SIDE BY SIDE and of course WARZONE! As a bonus we included two bonus-tracks on the B side that first appeared on the second volume of the notorious "M-TOWN REBELS II – AMONG THE ANGELS" compilation, for some more old school BACKFIRE! action with the superb "Down For The Cause" and a BOLD cover! "CHOOSE MY OWN PATH" was originally released on CD by KINGfisher and is now available for the first time ever on vinyl, issued under exclusive license from Century Media Records. PRESSING INFO: 100x ULTRA CLEAR VINYL 150x CLASSIC BLACK VINYL 250x ULTRA CLEAR VINYL w/ LOTS AND LOTS OF GOLD SPLATTER Upgraded jacket stock, High gloss varnish, black flood inside, double sided insert, mastered for vinyl!


Tracklist:
A1 Choose My Own Path
A2 Wound Up
A3 You're Only Young Once
A4 Don't Tread On Me
A5 Fight Till Death
B1 Down For The Cause
B2 Accept The Blame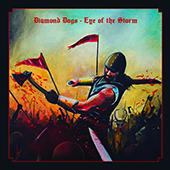 Diamond Dogs - Eye Of The Storm (bone vinyl) LP
Rebellion Records
Colored Vinyl

DIAMOND DOGS are back! Straight after the release of their massive self-titled debut EP for REBELLION RECORDS, these Dutch crusaders went right back into the studio to record their most impressive and vile work to date! These recordings shaped into the band's latest release for Rebellion – the "EYE OF THE STORM" LP! Outdoing their debut in every way possible, the DIAMOND DOGS take no prisoners and deliver a no holds barred, ultra barbaric LP with its eight tracks forged in fire and its breathtaking artwork! If you're into the likes of BATTLE RUINS, SHIPWRECKED, BERZERKER BOYZ and of course LIVE BY THE SWORD, "EYE OF THE STORM" will be an absolute must and undoubtedly one of your favorite releases of 2022! So armor up, raise your sword and get ready for war with DIAMOND DOGS' "EYE OF THE STORM"! PRESSING INFO: 200x BONE COLORED VINYL 300x BLACK VINYL


Tracklist:
Side A:
01. Eye Of The Storm
02. Gatekeeper
03. Crusher Of Soulds
04. Neon Nights
Side B:
01. End In Sight
02. Break Out
03. Where Flowers Used To Grow
04. One Track Mind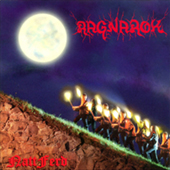 Ragnarok
Nattferd (blue vinyl) LP
Colored Vinyl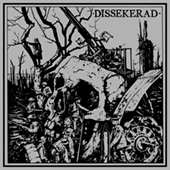 Dissekerad - Inre Strid LP
Phobia Records

Bulldozer hardcore punk from these Swedish veterans featuring ex-members of the mighty TOTALITÄR! Anyone who heard the Humant Blod 7" knows that these rippers aren't done setting the standard for cut to the bone kang punk. Following those recording the Swedish section of the band returned to Sweden and reentered the studio for a 3rd Dissekerad LP. Ripping and raw, unexpected and crushing... this is a hardcore record that shows that you can still make something fresh and exciting out of a well known style.


Tracklist:
A1 . Överflöd
A2 . Speglar Sig
A3 . Skit I Allt
A4 . Svart Och Vitt
A5 . Idioter
A6 . Dom Ljuger
B1 . Maktspell
B2 . Köper Och Dör
B3 . Lyckans Smed
B4 . Jag Har Fått Nog
B5 . Slaktens Massor
B6 . Inre Strid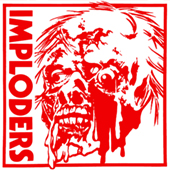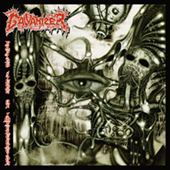 Galvanizer - Prying Sight Of Imperception LP
Me Saco Un Ojo Records

ME SACO UN OJO, in conspiracy with EVERLASTING SPEW, is proud to present GALVANIZER's highly anticipated second album, Prying Sight of Imperception. ME SACO UN OJO will handle the vinyl LP version while EVERLASTING SPEW will handle the CD version. Hailing from the death metal hotbed that is Finland, GALVANIZER emerged in 2013. Their 2018 debut full-length, Sanguine Vigil, stormed the scene and earned the band a huge amount of respect in the underground with their violent brand of grinding death metal. Now its follow-up is to be unveiled to the world. Titled Prying Sight of Imperception, this record does not approach with shyness or reserve; rather, it jumps into a riveting cascade of rotten guitars and pummeled drums that pulverize you as the maniacally snarled vocals spew forth. Its beginning should grab any death metal fan who takes the genre seriously with its primal artillery or pure carnage. Taking the core of thrashing instrumentals and barbaric grooves to the logical conclusion, a swamp of pure & filthy death metal ecstasy, there is no turning back once you hear GALVANIZER. Once they cave your skull in with their sonic savagery, you will not need convincing to become a part of the odious mass of fans blasting their rotten hymns of devastating death. Prying Sight of Imperception is a cut of ferocity that knows no remorse, hammering bestial barbarity to corpse-splitting effect. From the tormenting heaviness of the drums to the unending riff-fest and certainly not forgetting the malignant vocals, GALVANIZER's latest offering is a storm of hellish intensity that gets in, rips you apart, and leaves without having time to offer so much as a single weak riff. The cemetery gates have opened…venture in and join the zombified metal mania with GALVANIZER's Prying Sight of Imperception!

Listen to a sample:

LOGIN
YOUR SHOPPING CART
NEW MUSIC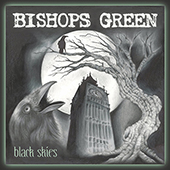 NEW MERCHANDISE