New Music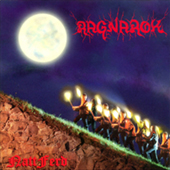 Ragnarok
Nattferd (blue vinyl) LP
Colored Vinyl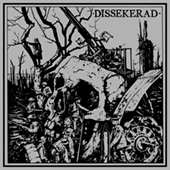 Dissekerad - Inre Strid LP
Phobia Records

Bulldozer hardcore punk from these Swedish veterans featuring ex-members of the mighty TOTALITÄR! Anyone who heard the Humant Blod 7" knows that these rippers aren't done setting the standard for cut to the bone kang punk. Following those recording the Swedish section of the band returned to Sweden and reentered the studio for a 3rd Dissekerad LP. Ripping and raw, unexpected and crushing... this is a hardcore record that shows that you can still make something fresh and exciting out of a well known style.


Tracklist:
A1 . Överflöd
A2 . Speglar Sig
A3 . Skit I Allt
A4 . Svart Och Vitt
A5 . Idioter
A6 . Dom Ljuger
B1 . Maktspell
B2 . Köper Och Dör
B3 . Lyckans Smed
B4 . Jag Har Fått Nog
B5 . Slaktens Massor
B6 . Inre Strid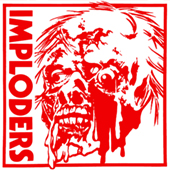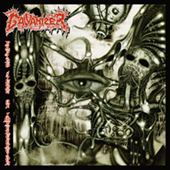 Galvanizer - Prying Sight Of Imperception LP
Me Saco Un Ojo Records

ME SACO UN OJO, in conspiracy with EVERLASTING SPEW, is proud to present GALVANIZER's highly anticipated second album, Prying Sight of Imperception. ME SACO UN OJO will handle the vinyl LP version while EVERLASTING SPEW will handle the CD version. Hailing from the death metal hotbed that is Finland, GALVANIZER emerged in 2013. Their 2018 debut full-length, Sanguine Vigil, stormed the scene and earned the band a huge amount of respect in the underground with their violent brand of grinding death metal. Now its follow-up is to be unveiled to the world. Titled Prying Sight of Imperception, this record does not approach with shyness or reserve; rather, it jumps into a riveting cascade of rotten guitars and pummeled drums that pulverize you as the maniacally snarled vocals spew forth. Its beginning should grab any death metal fan who takes the genre seriously with its primal artillery or pure carnage. Taking the core of thrashing instrumentals and barbaric grooves to the logical conclusion, a swamp of pure & filthy death metal ecstasy, there is no turning back once you hear GALVANIZER. Once they cave your skull in with their sonic savagery, you will not need convincing to become a part of the odious mass of fans blasting their rotten hymns of devastating death. Prying Sight of Imperception is a cut of ferocity that knows no remorse, hammering bestial barbarity to corpse-splitting effect. From the tormenting heaviness of the drums to the unending riff-fest and certainly not forgetting the malignant vocals, GALVANIZER's latest offering is a storm of hellish intensity that gets in, rips you apart, and leaves without having time to offer so much as a single weak riff. The cemetery gates have opened…venture in and join the zombified metal mania with GALVANIZER's Prying Sight of Imperception!

Listen to a sample: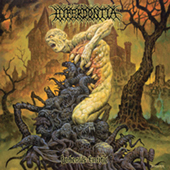 Hyperdontia - Hideous Entity LP
Me Saco Un Ojo Records

HYPERDONTIA is a name that needs little introduction. In 2018 this Turkish-Danish Death Metal machine unleashed "A Nexus Of Teeth" which proved to be some of the most astounding Death Metal of recent years, earning the band a huge amount of respect. Along with a couple of EP's and a split with MORTIFERUM, we have seen the quality of their music remain consistently high. Now they return with their 2nd full length opus "Hideous Entity". Opening with a charnel blend of doomy riffs and cavernous drum work, the band draw once more from the spectral vein of old school Death Metal with their own crushing blend of slower moving extremity. Those lurking riffs that change angle rapidly into ever-evolving depths of ferocity meet a busy and incredibly able drum performance, aided by monstrous vocals to ensure the entire band has a monolithic sound of pure obliteration. To balance such unfathomable musicianship with a tendency for catchiness and groove ensures we receive an expansive and unforgettable experience that will not only destroy but also stick with the listener long after the album finishes. There is a definite progression in instrumentation here as warped bass lines underline the venomous riffing and bombastic drums in a manner that can only be described as otherworldly. While "A Nexus Of Teeth" was a blunt force trauma of pure Death Metal hammering, this recording is razor sharp, though holding onto all of the great characteristics of its predecessor, they have not been afraid to experiment and embolden the flavour of their sound. The 40 minute length of the LP spans 8 songs, each of which proves to be a wondrous affair of punishing heaviness in its own right, but the sheer brutality and capability of HYPERDONTIA's songwriting / musical talent can only be truly unlocked when listening to "Hideous Entity" as a whole. Aptly titled, this distorted configuration of sounds is utterly abysmal in the best possible way. All of the instruments and vocals alike work in unison to provide a stoic and barbaric yet intricate tapestry of decimating sounds and contorted atmospherics. Precision is of course key, as has always been the case, with every riff or beat or growl feeling deliberate in its conviction. No second is wasted nor ideas linger past their welcome, this entity transcends through so many juxtaposing qualities with sadistic pleasure, as its volatility will throw you into a whole new abyss of demonic soundscapes. This is not an album to listen to but rather fall victim to its might. Something that any Death Metal maniac will do gladly when such magnificence is offered. HYPERDONTIA return with triumph and glory on their most blazon display of morbid music to date.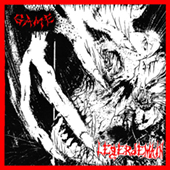 Game - Legerdemain LP
Quality Control Records

Game returns after their 2019 full-length No One Wins with the Legerdemain EP. Piercing the listener with nonstop aural carnage, the EP would be an apt soundtrack to the armageddon. Part Venom, part Death Side, all live and loud, Legerdemain offers no restful moments. An instrumental masterclass with blistering drumming from Jonah Falco, weird and wonderful guitar melodies conjured up by Cal Baird, and a rumbling and decapitating buzzsaw bass by Nicky Rat, the release's finishing move is an ever-changing vocal tone by Ola H. Legerdemain can be a rewarding, or punishing, aural journey depending on your perspective. The new release, which was recorded and mixed by Jonah and mastered by extreme music legend Arthur Rizk finds Game leaning heavily into their metal influences, with sounds of early 80s UK steel given extra ferocity through the lens of Japanese hardcore punk from the same era. Having toured multiple times in Europe and North America, Game, which features members of Fucked Up, Arms Race and Violent Reaction, is equally comfortable playing to punks, metalheads and everyone in between. 'Legerdemain' is a magician's term meaning sleight of hand, a key skill of deception. The term is used as a metaphor for our current post-truth society where governments, technocracies, and financial institutions use smoke and mirrors to create a farcical and bewildering existence where one cannot know if something is real or not in order to cover up social injustice and mechanisms that drive inequality. As Legerdemain progresses, one is being continually dragged along towards an apocalyptic ending on "Release", which reflects on this current predicament as a nuclear explosion approaches with nothing left to do except give into the madness. There is a constant cycle of rising again, fighting against wrong doing, exhaustion, and endings. The lyrics in Polish, English and a sprinkle of French, represent the multinational members of the band, who feel culturally in a no man's land, which in fact is everyone's experience in 2021. Legerdemain tries to answer this anomie with urgent metal punk that is hauntingly relevant.

Listen to a sample: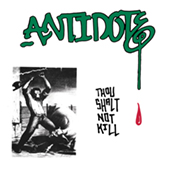 Antidote - Thou Shalt Not Kill LP
Radio Raheem Records

If you're a ravenous consumer of New York hardcore obscurities like us, then you probably pored over tape trading lists late at night and wondered if Antidote's "Nazi Youth" demo actually existed, or was just a figment of tape traders' imaginations, or was (more realistically) just a bad dub of the 7". Well lo and behold, when we were tasked with re-releasing Antidote's classic "Thou Shalt Not Kill" 7" EP, we asked the band to dig into the vaults for a little something extra to pad things out into a 12", and they came up in spades! In addition to the legendary 8-song EP, you get the band's first 7-song demo recorded in 1982 at Jerry Williams' infamous 171A Studios, plus two songs recorded shortly thereafter for the lost Bad Brains Records compilation, and a previously uncirculated 12-song live set from 1983. The early demos feature original Antidote singer Jeff White (plus future Prong/Danzig axeman Tommy Victor on bass) and show the natural evolution from the band's punky roots to the well-oiled hardcore machine they became on their vinyl debut. The live set features "Thou Shalt Not Kill" howler Louie Rivera and contains several lost tracks that never made it to the studio. That's 29 tracks total of classic New York hardcore, 21 of which have never been heard anywhere before! The LP also includes a 16-page, 12"x12" booklet containing photos, flyers and extensive liner notes by guitarist/founding member Robb "Nunzio" Ortiz, plus a reproduction of the band's original sticker design. Pressing of 1000 copies.


Tracklist:
Thou Shalt Not Kill 7"
01. Life As One
02. Nazi Youth
03. Real Deal
04. Foreign Job-Lot
05. Zero Mentality
06. Got Me On The Line
07. Die At War
08. Something Must Be Done

1982 Demos
09. Die At War
10. Leave It Behind
11. Him
12. Them Or Us
13. Deadly Rain
14. Job Well Done
15. Live As One
16. Nazi Youth
17. Die At War

Live At CBGB - June 11, 1983
18. Foreign Job-Lot
19. Something Must Be Done
20. Deadly Raine
21. Got Me On A Line
22. You Say You Didn't But You Did
23. Life As One
24. Nazi Youth
25. Herpes R Forever
26. Unaffected
27. Live For Nothing
28. Real Deal
29. Zero Mentality

Listen to a sample: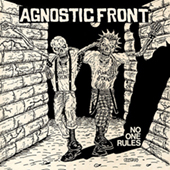 Agnostic Front - No One Rules LP
Radio Raheem Records

Radio Raheem proudly presents this collection of long lost material from New York's #1 hardcore band, available here for the first time on (fully authorized) vinyl. The LP includes 34 tracks across two different recording sessions, the first predating the United Blood 7" and the second recorded just before the Victim In Pain LP. In addition, we dug deep into the NYHC vaults and assembled a massive 48-page, full color booklet, containing over 150 archival images tracing the band's early history from their start in 1982 until the end of their first nationwide tour in 1985 " some you may have seen before, but many have never seen the light of day until now " as well as commentary from members of the early NYHC scene.


Tracklist:
Don Fury 1983
01. Smell The Bacon/What's With You
02. In Control
03. Last Warning
04. Fuck All Authority
05. Fight
06. Get Out/Final War
07. Discriminate Me
08. United Blood
09. Society Suckers
10. No Rights (No One Rules)
11. Friends Or Foe
12. We Should Care
13. Blind Justice
14. Crucial Changes
15. Traitor
16. When The Skins Go Marching In/We Can Do Anything
17. It's My Life

Don Fury 1984
18. Blind Justice
19. Your Mistake
20. Friend Or Foe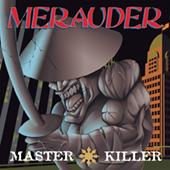 Merauder
Master Killer (2021 re-issue splatter vinyl) LP
Colored Vinyl


Merauder - Master Killer (2021 re-issue splatter vinyl) LP
Rebellion Records
Colored Vinyl

Ultra classic hardcore / metal crossover debut album from influential metalcore outfit MERAUDER from Brooklyn, NY. MASTER KILLER was originally released in 1995. Here is the official 2021 deluxe vinyl repress on REBELLION limited to 1000 copies with carefully restored, original cover artwork. Issued under exclusive license from Century Media Records. PRESSING INFO: 300x black vinyl 100x ultra clear 600x clear with red and purple splatter 180 gram vinyl upgraded jacket stock glossy lamination double sided insert black flood inside mastered for vinyl


Tracklist:
A1 Time Ends
A2 Life Is Pain
A3 Mirror Shows Black
A4 Master Killer
A5 Downfall Of Christ
B1 Dead End Path
B2 Take By Force
B3 Fear Of Sin
B4 Besiege The Messes
B5 Crossfire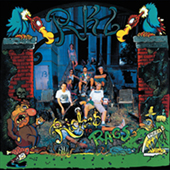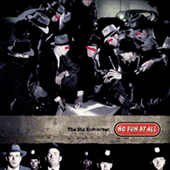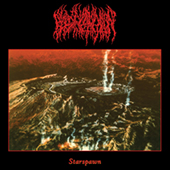 LOGIN
YOUR SHOPPING CART
NEW MUSIC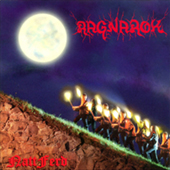 NEW MERCHANDISE