Upcoming Events
Vrijdag 25 november 2022: Hard Shoulder in Groningen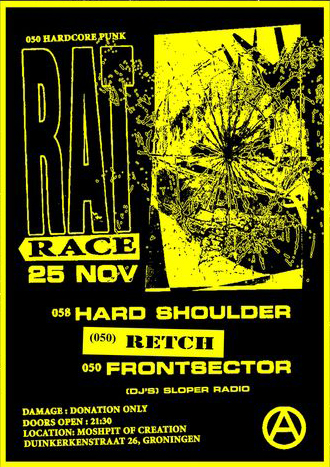 RAT RACE #1
Hard Shoulder, Retch and Frontsector
The comeback of Friesland's finest Hard Shoulder. If you know, you know. If you don't, you should. That fine oi/streetpunk vibe in a classic hc/punk sound. We're not exaggerating that we're extremely happy to have them back at it, at this show!
Crustenunie from Leiden (what's up 071) bring you that sweet crustpunk with political lyrics to bang your fist to in the air. 'Of je crust lust?' Well don't mind if we do!
Finally Groningen's own Frontsector. They're just killing it this last year so this is exactly what you need on a Friday night. New recordings on the way as well, we can't wait!
25 November 2022 at Moshpit of Creation. Open at 21:30. Don't be late! Bring cash for a donation. Suggested donation 5-10 Euro.
Expect more Rat Race in the near future.
Update:
Unfortunately Crustenunie have had to cancel their show. We hope to have them around sooner rather than later.
But! Their replacement is not for the weak. Retch is one of the new Groningen bands to look out for, kicking it around since early 2022. Happy to have them over with their fast and loud hardcore punk at Rat Race #1.
Facebook event
Zondag 4 December 2022: Platenbeurs @ Iduna, Drachten
THE LIMIT RECORDS heeft een stand op deze platenbeurs!
AUDIOFIELEN, SNEUPERS EN VERZAMELAARS OPGELET! ZONDAG 4 DECEMBER VERANDERT POPPODIUM IDUNA WEDEROM IN EEN HEUSE PLATEN- EN CDMARKT. AL JAREN ZIJN ER GEEN PLATENZAKEN MEER IN DRACHTEN AANWEZIG, MAAR MAAK JE NU MAAR VAST KLAAR OM EEN MIDDAGJE TE SNUFFELEN TUSSEN DUIZENDEN LP'S, CD'S EN SINGLES OP DEZE GRATIS TOEGANKELIJKE PLATEN- EN CDBEURS IN IDUNA.
Verwacht een gevarieerd aanbod met een verscheidenheid aan professionele verkopers. Of je nou net begint met het aanleggen van je verzameling of al een behoorlijke berg collectorsitems in de kast hebt staan: je vindt altijd wat van je gading. Uiteraard zorgen we voor een dj die deze middag de lekkerste plaatjes gaat draaien.
Kortom: een walhalla voor muziekliefhebbers die regelmatig graag een plaatje en/of cd'tje opzetten en lekker door de bakken willen snuffelen!
Facebook event
Donderdag 8 December 2022: MGLA, Ulcerate @ Iduna, Drachten
MGLA + ULCERATE + MORD'A'STIGMATA
A TRIP INTO DARKNESS
De Poolse weersomstandigheden kunnen extreem zijn. Vooral de mist is onverbiddelijk. En laat dat nou juist de weersverwachting voor donderdag 8 december zijn. Want de blackmetal van Mgła is koud, krasserig en meeslepend.
De band is in het thuisland al een paar jaar met een enorme opmars bezig; daar verkoopt men grote zalen uit. Nu moet ook de rest van de wereld eraan geloven. Deze Europese tournee is de eerste sinds het in 2019 verschenen Age Of Excuse, de opvolger van het in 2015 verschenen doorbraakalbum Exercises In Futility. Op deze avond zal MGLA (jawel, Pools voor mist) zichzelf in leer en Iduna in nevelen hullen!
De geheel eigen stijl van Ulcerate uit Nieuw Zeeland stoelt op een fundament van deathmetal. Met waanzinnige speeltechnieken en maatsoortwisselingen weet de band overtuigende en boeiende tracks neer te zetten. Denk hierbij aan de heftigheid van Hate Eternal en de aardse tonen van Neurosis en je hebt een goed beeld van de richting de groep neemt.
Mord'A'Stigmata – net als MGLA Pools en ook blackmetal – speelt met invloeden van bands als Godflesh en Cult Of Luna. Dat levert een interessante combinatie op, die zowel intens, experimenteel als gitzwart is. De band speelde in Nederland onder meer op het, bij liefhebbers van extreme en experimentele muziek, welbekende festival Roadburn. Van die show verscheen ook een live-album.
Facebook event