Upcoming Events
Zondag 22 januari 2023: Platenbeurs @ De Tamboer, Hoogeveen
Facebook event
Zondag 29 januari 2023: Metal Record Fair @ Parochiezaal Bekaf, Aarschot

Facebook event
Zaterdag 04 februari 2023: Drachten Deathfest @ Iduna, Drachten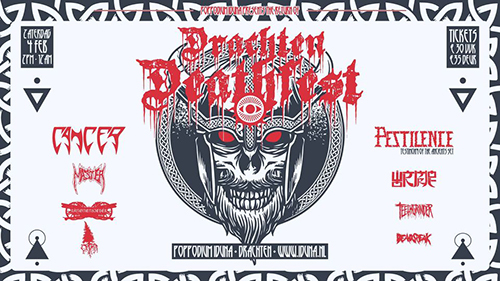 Maak je klaar voor een muzikaal potje dood en verderf tijdens een loodzware nieuwe editie van Drachten Deathfest! Een dag vol extreem gitaargeweld, technische drums en gorgelende vocalen. De meedogenloze line up bestaat uit Cancer, Pestilence, Master, Wormrot, Kanonenfieber, Teethgrinder, Deadspeak en Grima. Na de afgelaste coronaeditie is Drachten Deathfest terug van weggeweest.
CANCER
De legendarische Britse deathmetalband Cancer stormde drie decennia geleden de extreme metalscene binnen met klassiekers als 'To the Gory End' en 'Death Shall Rise'. Met de 6 platen die in de loop van hun bestaan werden uitgebracht werd een sterke wereldwijde fanbase opgebouwd. In 2013 maakte de band voor de tweede maal een comeback. Op de laatste plaat 'Shadow Gripped' keert Cancer terug naar het oude brute geluid. Reken op een spraakmakende show.
PESTILENCE
De Nederlandse deathmetalformatie Pestilence krijgt al ruim dertig jaar erkenning voor het zetten van de Europese standaard als het gaat om brute muziek. De band zette samen met o.a. Obituary, Death en Morbid Angel eind jaren 80 deathmetal definitief op de kaart. Pestilence speelt op Drachten Deathfest een oldschool set waarbij het hoog aangeschreven album 'Testimony of the Ancients' integraal wordt gespeeld.
MASTER
Met Master halen we een van de grondleggers van het deathmetalgenre in huis. De van oorsprong Amerikaanse groep liet in de jaren tachtig als een van de eerste metalbands tekenen van extreme metal horen, toen zeer vooruitstrevend. De grote doorbraak is altijd uitgebleven maar Master behoort tot de elite van het genre en dient als inspiratiebron voor vele andere bands.
WORMROT
De progressieve grindcore van Wormrot wordt al jaren op handen gedragen. De band uit Singapore staat voor genadeloze blastbeats en hyperversnelde punkriffs met uitstapjes naar hupsende polkabeats, melodie en groove. Grensverleggend, oorverdovend en allesvernietigend.
KANONENFIEBER
Het Duitse Kanonenfieber weet op een geniale wijze brute, stompende deathmetal te combineren met atmosferische blackmetal. Opvallend zijn de serieuze teksten over de eerste wereld oorlog. Begin dit jaar werd de single 'The Yankee Division March' uitgebracht met een vocale bijdrage van niemand minder dan de inmiddels overleden Trevor Strnad (The Black Dahlia Murder).
TEETHGRINDER
Net als Wormrot is de van oorsprong Friese grindcoreband Teethgrinder niet vies van experiment. De groep combineert verschillende stijlen en weet met hun vernuftige composities een muur van geluid neer te zetten. Moddervette riffs worden gecombineerd met technisch drumwerk en dissonant gitaarspel waarmee ze een lekkere sfeer weten neer te zetten.
DEADSPEAK
Als je hart sneller gaat kloppen van 'old school' death metal in de stijl van Death, Benediction, Master en (vroege) Morbid Angel ben je bij Deadspeak aan het juiste adres! Dit trio uit de regio Heerenveen bracht recentelijk hun debuut 'Dissolve the Dreams' uit op het Raw Skull Recordz label wat ze meteen veel (inter-)nationale aandacht heeft in de metalpers en mooie shows op o.a. Pitfest heeft opgeleverd.
GRIMA
De atmosferische blackmetalband Grima komt mee als toursupport van Kanonenfieber.
Facebook event
Zondag 05 februari 2023: Platenbeurs @ Kalverdijkje, Leeuwarden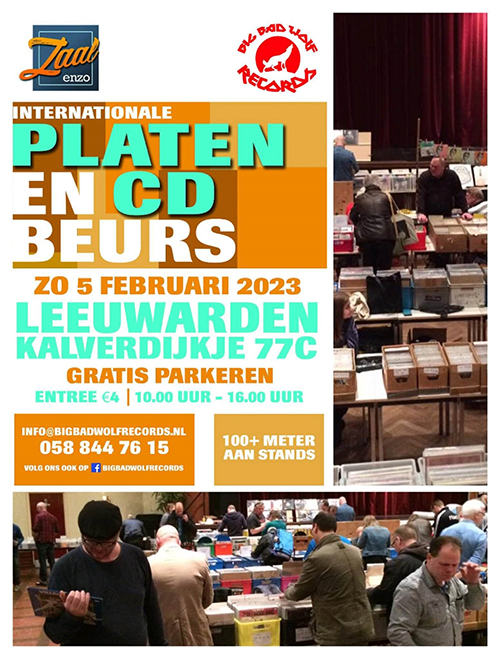 Zondag 05 februari 2023: Boston Takeover Tour '23 @ Iduna, Drachten
Slapshot, Death Before Dishonor, Risk, American War Machine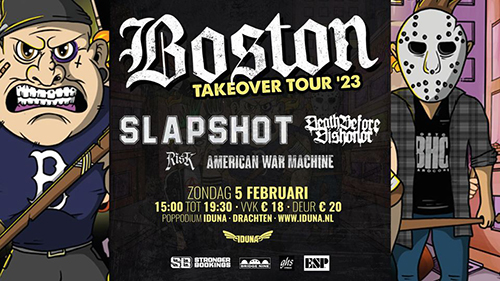 Oldschool hardcore en punkfans opgelet! De Boston Takeover Tour komt op zondag 5 februari naar Drachten om Poppodium Iduna te annexeren. Met een line up bestaande uit levende legendes Slapshot, Boston Beatdowncrew Death Before Dishonor, jonge honden Risk en de allstars American War Machine maken we ons op voor een ouderwets gezellig hardcore-matinee.
Al sinds 1985 is de Amerikaanse band Slapshot een van de vaandeldragers van de Boston hardcore en heeft de band met platen als 'Old Tyme Hardcore', '16 Valve Hate' en 'Sudden Death Overtime' regelrechte klassiekers op zijn naam staan. De band rondom de charismatische frontman Jack 'Choke' Kelly is beroemd en berucht vanwege zijn energieke live shows die in al die jaren nog niets aan opzwependheid hebben ingeboet. Vanaf de eerste tot de laatste toon volop gas dr'op, niet zeuren maar spelen en beuken!
In het kielzog van genregenoten Blood for Blood, Madball, Suicidal Tendencies en Pennywise, is de hardcore/punkband Death Before Dishonor aan het begin van dit millennium opgericht. Samen met Slapshot zijn ze twee van de grootste spelers in de Boston- en Amerikaanse hardcorescene en staan ze bekend om hun compromisloze hardcore met een gezonde scheut punk attitude. DBD heeft over de gehele wereld met alle grootheden gespeeld, op de grootste podia en festivals gestaan en sinds de oprichting meer dan tien releases uitgebracht. Hiervan is het album 'Unfinished Business' uit 2019 het meest recente maar naar verluid staat er nieuw materiaal aan te komen.
Risk mogen vandaag dan wel de 'jonge honden' zijn, ook dit kwartet maakt alweer 10 jaar de podia onveilig. Waarbij hun Bostonse kennissen het meer traditioneel aanpakken wat hardcore betreft, weet Risk zonder moeite invloeden uit de thrash te vermengen met hun sound die doet denken aan een 'donkere' Mindforce of een band als Shipwreck met een randje thrash a la Anthrax en Power Trip. Eind juni bracht de band hun tweede full length 'Monologue of Misery' uit; een aanrader mogen we wel zeggen.
Met leden van o.a. Slapshot, Blood for Blood en Agnostic Front mag je American War Machine gerust een allstar hardcoreband noemen. Eind 2019 bracht de band hun debuut 'Unholy War' uit op het befaamde Bride9 records waarop ze, zoals je van de heren mag verwachten, een agressief oldschool hardcore geluid laten horen waarbij ook de liefde voor Discharge en Motorhead op terug te horen is. Al was het alleen al door de d-beat drums.
THIS IS BOSTON NOT LA!
Facebook event
Zondag 12 februari 2023: Metal Record Fair @ PC Hofstade, Hofstade-Aalst
Facebook event
Zondag 26 februari 2023: XXXL Platenbeurs @ IJsselhallen, Zwolle
Facebook event