DVD's
There are 11 DVD's in stock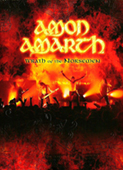 Amon Amarth
Wrath Of The Norsemen (3xDVD) DVD
Metal Blade Records

There probably isn't a band in metal that has received as huge a popularity boost in recent years as Sweden's favorite vikings AMON AMARTH. Want proof? Successful headlining tours of Europe and appearances in the top positions of festivals such as Summer Breeze, Wacken Open Air and PartySan. Furthermore, their last album "Fate Of Norns" climbed to an unbelievable position 31 in the German Media Control Charts, while reaching position 56 in Austria and landing 7th in the metal charts and 77th in the album charts in their home country. The follow-up to "Fate Of Norns", which is due out in autumn, is expected to be another step up the popularity ladder. In order to make the fans' unbearable wait a bit shorter, late April will see the first ever DVD release by AMON AMARTH, which extensively documents the band's triumphant rise during the last few years,. Entitled "Wrath Of The Norsemen", the 3 disc set comes in a deluxe 10-page, gold-laminated digipack, giving a new meaning to the expression "value for money". Main piece of the box is a concert filmed last August at Cologne's Live Music Hall, which went down in history as the longest show AMON AMARTH have ever played, with 23 songs altogether. Included is some serious viking battle action, tons of pyros and behind-the-scenes footage shot around the Cologne show. Discs 2 and 3 feature professionally filmed shows from Summer Breeze 2005, the Metal Blade Rrroooaaarrr 2005 (with a very special set list!), Wacken Open Air 2004, and the record release show for "Fate Of Norns", which took place in a sold-out Rockfabrik Ludwigsburg, also in 2004. Beware the "Wrath Of The Norsemen"!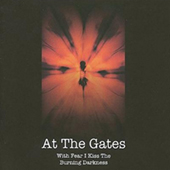 At The Gates
With Fear I Kiss The Burning Darkness CD+DVD
Peaceville Records

Sweden's At the Gates formed in 1990 and released 4 highly successful and influential studio albums before the band broke up in 1996. They later reformed in 2007 for some successful reunion dates across the globe. Regarded as a highlight of the band's career by many who followed them from their earliest incarnation, With Fear I Kiss the Burning Darkness, was originally released in 1993. The album was known for its breakthrough style at the time, with highly complex melodic arrangements retaining a dark and brutal edge mixed with slight black metal overtones and poetic, philosophical lyrics suiting the tracks perfectly. The album also featured a guest appearance by Matti Karki of Dismember. Along with the album and bonus tracks (consisting of 2 live tracks and an early demo version of 'The Architects'), this release includes new insightful liner notes by vocalist Tomas Lindberg, reflecting on the early days of the band, scene, and the making of the album. This package also includes a DVD containing a live show recorded in Groningen 1992 during the band's European tour with My Dying Bride; featuring many early classics from the band's first 2 albums and debut EP and giving a rare glimpse of a band on their way to great heights as a key influence in melodic death metal.


Tracklist:
CD
01. Beyond Good & Evil
02. Raped By The Light Of Christ
03. The Break Of Autumn
04. Non – Devine
05. Primal Breath
06. The Architects
07. Stardrowned
08. Blood Of The Sunsets
09. The Burning Darkness
10. Ever – Opening Flower
11. Through The Red

BONUSTRACKS:
12. Neverwhere (Live)
13. Beyond Good & Evil (Live)
14. The Architects (Live)

DVD
01. Raped by the Light of Christ
02. Through Gardens of Grief
03. Within
04. Souls of the Evil Departed
05. Windows
06. Kingdom Gone
07. The Architects
08. The Red in the Sky is Ours
09. The Nightmare Continues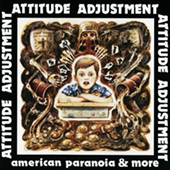 Attitude Adjustment
American Paranoia & More LP+DVD
Taang Records

1986's "American Paranoia" was a California thrash bash from the Bay Area's Attitude Adjustment. Along with bands like Excel, Cryptic Slaughter, and Hirax, Attitude Adjustment helped bridge the gap between blazing fast hardcore and speed metal, a sound that was duplicated many times over but rarely with the ferocity found here. This LP was originally pressed on the legendary Pusmort Records (run by famed artist Pushead) and has not been in print on vinyl since that initial pressing. LP includes DVD.


Tracklist:
01. Grey World
02. Dope Fiend
03. Hunger & Poverty
04. Fuck Chuck
05. Dead Serious
06. Johnny
07. Attitude Adjustment
08. DSFA
09. American Paranoia
10. Warfear
11. Streetwise
12. Working Class Pride
13. In The Center
14. Bombs
15. Rambo
16. Incredible End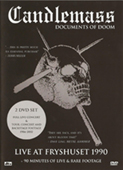 Candlemass
Documents Of Doom 2xDVD
Flying Dolphin


Tracklist:
DVD 1 (Live At Fryhuset 1990)
01. The Well Of Souls
02. Dark Are The Veils Of Death
03. Bewitched
04. Solitude
05. Dark Reflections
06. Under The Oak
07. Demons Gate
08. Bells Of Acheron
09. Through The Infinite Halls Of Death
10. Samarithan
11. Mirror Mirror
12. At The Gallows End
13. A Sorcerers Pledge

DVD 2 (Documentary Of Doom)
1. Sweden Rock Festival 2002
2. Greece 2002
3. Bang Your Head 2002
4. Wacken 2002
5. Oslo 2002
6. London 2002
7. London 1988
8. First Gig 1987
9. Dynamo Open Air 1988
10. Top Gear 1989
11. London 1989
12. US-Tour 89/91
13. Poland 1991
14. Sweden 1991

Special Features:
DTS
Dolby Digital 5.1
Band Commentary
Biography
Discography
Image Gallery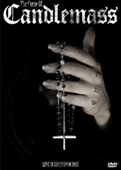 Candlemass
The Curse Of Candlemass 2xDVD
Flying Dolphin


Tracklist:
1. Intro
2. Demons Gate
3. Dark Reflections
4. The Well Of Souls
5. Into The Unfathomed Tower
6. Ancient Dreams
7. The Bells Of Acheron
8. Witches
9. Mirror Mirror
10. A Cry From The Crypt
11. Mourners Lament
12. Black Stone Wielder
13. Solitude
14. At The Gallows End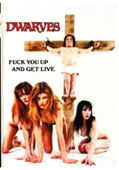 Dwarves
Fuck You Up And Get Live DVD


Dwarves
Fuck You Up And Get Live DVD
MVD

Notorious for their ferocious live performances spanning over two decades, the Dwarves have rocked and offended audiences the world over. This sinful 19- song performance DVD was filmed at the legendary Continental Club in NYC on October 18, 2004 and includes several extra music videos like "Over You", "We Must Have Blood", "Bleed On", "Pimp", and "Way Out" as well as alternate camera angles of the show. In this age of prepackaged punk and ready-made rebellion, the Dwarves remain fiercely independent and unrepentant to the end... This DVD supplies all the crazy-ass bullsh!t you've come to expect from this band of degenerate f*#ks. Massacre Intro, Dominator, FEFU, I Will Deny, Everybody's Girl, Like You Want, Relentless, Salt Lake City, Anybody Out There, Way Out, Over You, You Gotta Burn, Act Like You Know, How It's Done, Back Seat of My Car, Detention Girl, Astroboy, Must Have Blood, Unrepentant BONUS VIDEO CLIPS:We Must Have Blood, Bleed On,He Who, Pimp, Way Out, Split Screen Option!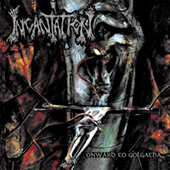 Incantation
Onward To Golgotha (re-issue) CD+DVD
Relapse Records

Listen to a sample: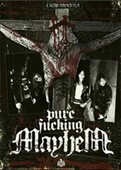 Mayhem
Pure Fucking Mayhem DVD
Lupus Lounge Records

"Pure Fucking Mayhem" is an impressive account of the history of this legendary band, clearly focussing on the years 1985-1993 with their tales of unrelenting, brutal Black Metal and bloody crimes. Including exclusive interviews with, amongst others, Necro Butcher, Attila Csihar, and Manheim, this documentary attains a maximum of authenticity, and with rich, often unreleased footage, it brings MAYHEM's infamous story to gruesome life. The DVD will also feature a bonus CD comtaining the documentary soundtrack - calm piano versions of old MAYHEM classics.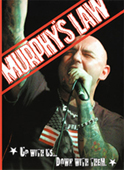 Murphy's Law
Up With Us... Down With Them DVD
MVD

For over two decades, Murphy's Law has been a staple of the NYC hardcore scene. This raucous 18-song performance DVD was filmed at the legendary Continental Club in NYC and Rex's in West Chester, PA. Forget about all of that prepackaged punk and bubblegum badboys, Murphy's Law is back to bring a wild drunken Punk Rock party into your living room.


Tracklist:
Cavity Creeps
Don't Bother Me
Improv (toilet paper)
What Will the Neighbors Think
Quest for Herbs
Secret Agent S.K.I.N.
Green Bud
Wall of Death
Panty Raid
Bong
Crucial Bar-B-Q
Ska Song
Skin Head Girl
Beer
Woke Up Tied Up
Fun
Vicky Crown
Head Kicked In.

Bonus live footage in Philadelphia and Allentown performing:

California Pipeline
Sit Home and Rot
Sarasota
Care Bear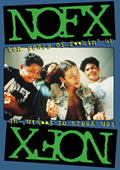 NoFX
Ten Years Of Fuckin Up DVD


NoFX
Ten Years Of Fuckin Up DVD
Fat Wreck Chords

A ten year history of NOFX that was once only available on video tape is now available on DVD! See exclusive footage that spans the formative years of everyones favorite punk band. Take a glimpse at the true building blocks of NOFX. From their very first tour in 1985 (see the band play to 15 people in a field), to Fat Mike's wedding. This thing is packed full of fun! We didn't want to stop there so we used the magic of DVD to include commentary by NOFX. We didn't think that would be quite enough, so Mike got the Vandals to do commentary of the NOFX commentary. This is some funny stuff! (2003)


Tracklist:
1. Stickin In My Eye
2. Johnny B. Goode
3. Green Corn
4. Shut Up Already
5. Shower Days
6. Gonoherpa Syphilaids
7. Straight Edge
8. S/M Airlines
9. Six Pack Girls
10. The Longest Line
11. Buggley Eyes
12. Beer Bong
13. Leave It Alone
14. Jaundiced Eye
15. Johnny Appleseed
16. Moron Brothers
17. Iron Man
18. Bob
19. Kill All The White Man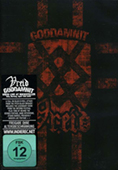 Vreid
Goddamnit DVD
Indie Recordings

On their first ever DVD Vreid launch upon us a full on Black N'Roll attack! The now legendary show from the Inferno Festival 2009 is well documented in its entirety with a great 7-camera production. On top of that the DVD is loaded with behind the scenes footage, band interviews, studio diaries, previously unseen live footage and more! A must have for the true Black N`Roll fan!

LOGIN
YOUR SHOPPING CART
NEW MUSIC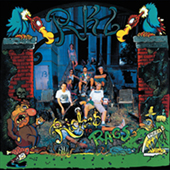 NEW MERCHANDISE