The Black Dahlia Murder - Deflorate - CD
Click image to enlarge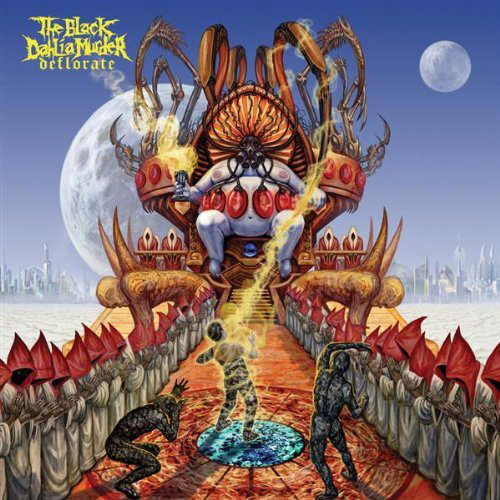 Label: Metal Blade Records

Price: 9.99 Euro



Still reveling in the wake of their ravenously received DVD spectacle "Majesty", Michigan's oddball sons of molten melodic death metal The Black Dahlia Murder return stronger than ever with their fourth thrashing opus, "Deflorate"!
Classical-come-apocalyptic; violently energetic yet melodiously beautiful, "Deflorate" sees the songwriting of band leader and rhythm guitarist Brian Eschbach at its most developed and refined, exponentially complimented by contributions from both bass savant Bart Williams and newcomer guitarist/shred lord Ryan Knight (ex - Arsis), whose leads are destined to dazzle fans and take the band's punishing potency to dramatic new heights. Combined with the intense performances of uniquely charismatic howler/growler Trevor Strnad and rising extreme drumming star Shannon Lucas, the cannon of talent possessed by The Black Dahlia Murder is more stacked to destroy than ever! Multiplying the strengths of their past catalog with a reborn urgency and focus, the BDM crew forge steadily down the blackened path they laid with 2007's stunningly dark "Nocturnal". With pedal completely to the metal, "Deflorate" boasts the bands patented mixture of Swedish influenced thrash and black metal with blasting fury and crushing American muscle
Recorded at the famed Audio Hammer Studios by production wizard Jason Suecof and engineering talent Mark Lewis, "Deflorate" is multifaceted death trip: beautiful, evil, and morbidly addicting. The Black Dahlia Murder has not surrendered their knack for writing compact, catchy death metal madness, and "Deflorate" is by no means an exception to the bands rule of 'all killer and no filler'... no punches are pulled, no gravestone is left unturned!



Tracklist:
1. Black Valor
2. Necropolis
3. A Selection Unnatural
4. Denounced, Disgraced
5. Christ Deformed
6. Death Panorama
7. Throne Of Lunacy
8. Eyes Of Thousand
9. That Which Erodes The Most Tender Of Things
10. I Will Return



Also available from The Black Dahlia Murder
More information about The Black Dahlia Murder
Also available from Metal Blade Records
More information about Metal Blade Records