Rise Above Records
In Store

There are 12 titles from Rise Above Records in store



Blood Ceremony
Living With The Ancients CD
Rise Above Records

BLOOD CEREMONY, an infernal marriage of Sabbath riffing and the manic piping of Jethro Tull, play a distinctive style of flute-tinged witch rock. After a mind-numbing study of hundreds of trashy witchcraft films, the group began to pour their energies into crafting songs, transforming their fascination for horror into a profane musical vision. Their sound bears witness to the heavy bands of yesteryear, fusing progressive rock elements with folk and an early '70s downer vibe. Invoking the mischievous Pipes of Pan, Blood Ceremony songs are distinguished by singer Alia O'Brien's energetic flute solos - accenting an instrument long-associated with a list of devilish figures.


Tracklist:
01. The Great God Pan
02. Coven Tree
03. The Hermit
04. My Demon Brother
05. Morning of the Magicians
06. Oliver Haddo
07. Night of Augury
08. The Witchs Dance
09. Daughter of the Sun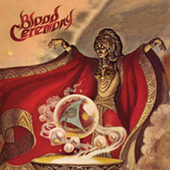 Blood Ceremony
Self Titled CD
Rise Above Records

Blood Ceremony plays a distinctive brand of flute-tinged witch rock. Early on, their sound revealed an infernal marriage of Black Sabbath and the manic piping of Jethro Tull. Eschewing the affectations of modern rock music, Blood Ceremony keeps it simple and heavy; yet their songs are tempered with strong, brooding melodies. This effect is enhanced by their use of the flute; an instrument once prevalent in progressive rock, but which is uncommon in today's scene. Invoking the mischievous "Pipes of Pan," Blood Ceremony songs are distinguished by singer Alia O'Brien's energetic jazz-flute solos - accenting an instrument long-associated with a list of devilish mythic characters.


Tracklist:
01. Master Of Confusion 7:00
02. I'm Coming With You 4:49
03. Into The Coven 4:38
04. A Wine Of Wizardry 1:45
05. Rare Lord 6:26
06. Return to Forever 6:24
07. Hop Toad 5:48
08. Children Of The Future 4:12
09. Hymn To Pan 7:36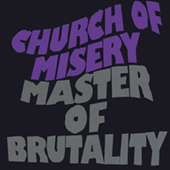 Church Of Misery
Master Of Brutality 2xLP
Rise Above Records

Originally released on Southern Lord Records back in 2001, Master of Brutality reached number 17 in the Terrorizer magazine albums of the year. Featuring a cover of Blue Oyster Cult classic Cities on Flame the rest of the album is drenched in typical blooded-soaked murder tales of the world's sickest serial killers unspeakable acts against mankind. Heavy shit from Japan's true masters of doom! Since then Church of Misery's fanbase has grown to a very respectable status around the world. Out of print for over six years, Rise Above Records is delighted to present this Doom Sludge classic in re-mastered form with three extra tracks and brand new, familiar looking artwork.


Tracklist:
1. Killfornia (Ed Kemper)
2. Ripping Into Pieces (Peter Sutcliffe)
3. Meglomania (Hurbert Mullin)
4. Green River
5. Cities on Flame
6. Master of Brutality (John Wayne Gacy)
Bonus Tracks
7. Boston Strangler (Albert De Salvo)
8. Candy Man (Dean Coroll)
9. Lucifer Rising (Live)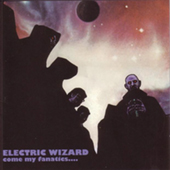 Electric Wizard
Come My Fanatics 2xLP
Rise Above Records


Tracklist:
01. Return Trip
02. Wizard in Black
03. Doom-Mantia
04. Ivixor B / Phase Inducer
05. Son of Nothing
06. Solarian 13
07. Demon Lung
08. Return to the Son of Nothingness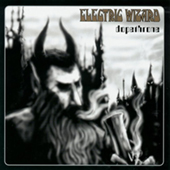 Electric Wizard
Dopethrone CD
Rise Above Records

Considered by many to literally be 'The Heaviest Band In The World', Electric Wizard is more like a cult than a band. The Wizard conjure up visions of Alistair Crowley having a black trip with HP Lovecraft, whilst gazing at the most far out biker flicks ever created. This, combined with the crustiest gravity defying Doom riffs and drones, Electric Wizard have one mission: To Destroy!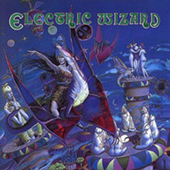 Electric Wizard
Self Titled LP
Rise Above Records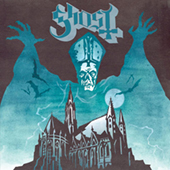 Ghost
Opus Eponymous LP
Rise Above Records

GHOST is the name of a devil worshipping ministry, that in order to spread their unholy gospels and, furthermore, trick mankind into believing that the end is ultimately a good thing, have decided to use the ever so popular rock music medium as a way to achieve their ends. Standing motionless and anonymous beneath the painted faces, hoods and robes which their sect demand, the six nameless ghouls of Ghost deliver litanies of sexually pulsating heavy rock music and romantic lyrics, that glorify and glamorise the disgusting and sacrilegious, with the simple intention to communicate a message of pure evil via the most effective device they can find - entertainment. In May 2010 Ghost were contracted to a UK based gramophone company called Rise Above Ltd, who swore an oath stating that they will assist the group in the task of spreading their musical blasphemies through formats such as Compact Discs, Long Playing Vinyl Records and Digital Downloading. The first full length Ghost album 'Opus Eponymous' will be released in October 2010 and it is understood and agreed that Rise Above Ltd will invest money in areas such as magazine advertising and retail marketing and will employ the services of music publicity specialists in order to expose the music of Ghost to the wider public. Specific attention will be paid to targeting people (research suggests these are most likely to be adolescents) who have a void in their life, perhaps caused by some form of emotional trauma or upset, that can be filled by the music and philosophies of Ghost. In time, these easily manipulated children will come to share the views and goals of the Ghost sect and can prepare their own plans for the downfall of humanity....


Tracklist:
01. Deus Culpa
02. Con Clavi Con Dio
03. Ritual
04. Elizabeth
05. Stand By Him
06. Satan Prayer
07. Death Knell
08. Prime Mover
09. Genesis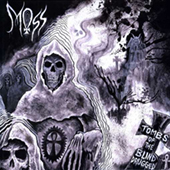 Moss
Tombs Of The Blind Drugged 10inch


Moss
Tombs Of The Blind Drugged 10inch
Rise Above Records

It is unknown how deep in the bowels of the Earth 2008's Sub Templum resided; an exercise in the esoteric, subterranean and extreme doom like no other... but with its echoes still vibrating the cores, Moss rise once more, from the Tombs of the Blind Drugged. Already a cult legend, Moss' unique brand of extremity and terror now reaches new depths as monolithic riffs and gut wrenching vocals wreck and bludgeon but with an added sense for the melodic, and through the use of organ and mysterious chants atmospheres become ever more dense... three tracks alchemically distilled to a total purification of Occult Horror Doom! A guaranteed underground hit!


Tracklist:
01. Skeletal Keys
02. Tombs Of The Blind Drugged
03. Serpent
04. Maimed And Slaughtered (Discharge cover)


Serpentcult
Weight Of Light LP
Rise Above Records

Some bands are heavy and some bands are F***ING HEAVY! Belgium's SerpentCult (as spelt) most definitely fall into the latter. Comprising of various veterans of the Belgian underground Doom Metal scene, they set about battering galaxies with some of the most unorthodox and complex heavy riffs yet known to man during the heady summer of 2006. 'Weight Of Light', was recorded at Priory Studios, Birmingham with the grandmaster of subsonic frequencies, Greg Chandler (Esoteric). Mixing was handled Billy Anderson (High On Fire, Neurosis etc) at his Oakland home studios. The combination of savage material and the weighty pedigree of people involved in the production has resulted in creating one the absolute heaviest metal albums you will hear this year. Defying generic categorization, 'Weight Of Light' transcends beyond standard Doom fare into a maze of uncompromising rifferama. The title track, itself, sounding like a combination of the heaviest Goatsnake offerings mixed with a hint of Celtic Frostiness and (80's Belgian Metal legends) Acid. The all out Doom-odyssey of Akarnum reminds us how monumental and utterly devastating this often-overlooked genre can actually be.


Tracklist:
01. New World Order
02. Screams From The Deep
03. Weight Of Light
04. Awaken The Kraken
05. Arkanum
06. Red Dawn
07. Templar
08. SerpentCult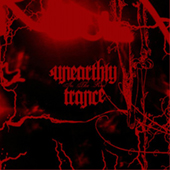 Unearthly Trance
In The Red LP
Rise Above Records

β€œIt's like Melvins meets Darkthrone in a Brooklyn bar under a full moon!" (Mike Patton). If you put 'season of séance, science of séance' (the bands debut album) in terms of color, it would be black and silver: monochrome. A cold steel foundation if you will. That would make Unearthly Trance's second album absolutely on fire and 'in the red'. After holding down the fort as one the most immovable structures in NYC post 9/11. Lipynsky, Verni and Newman have been leaving behind carnage and decadence that already has the underground telling tales. Known to record in very few takes in the studio, this new record takes the listener on as if they are challenging them with absolute confidence. Recorded at Volume Studios in Chicago, Sanford Parker absolutely nailed capturing of the 'raw power' of an occult rock band in its finest form yet. ; A well-oiled machine blasting out of the speakers. The point this time around: boiling blood, no mercy, fearless experiments: monstrous sounds out of a classic 3 piece formation. Like Nikola Tesla in the form of a Doom band in the Lab. (ha-ha) Explosions of mind-fucking noise guitars, harsh yet clear soaring vocals, and the thickest bulldozer rhythm section you can imagine. Although the record still has UT's trademark elasticating doom riffs, its now crossbred with a certain noise/rock sense-ability. UT now seem to be more focused on overloading tones and then blasted the notes into machines of nightmarish physicality's.


Tracklist:
01. Penta(grams)
02. It is the never and forever that you fear
03. In the red
04. Possession in poverty
05. Turning piss into gold
06. Deathothic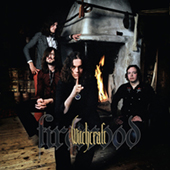 Witchcraft
Firewood LP
Rise Above Records

Firewood is the second album from Swedish Doom Rock legends, Witchcraft. Moving on from where they left off on their cult-classic self-titled 2004 opus, 2005's Firewood gained the band a wider audience, particularly in America. The Sabbath, Pentagram and garage rock influences are still strong and clearly heard, whilst the actual songwriting and production became more defined. Key tracks such as Chylde of Fire and Queen of Bees are firm favourites by fans today and staple additions to the set list. Witchcraft are a band that can swing effortlessly from orthodox Doom to Blues, Folk and Jazz, whilst always remaining shrouded in the cloak of influence from some of the more obscure moments of the 70s cult rock underground. Time has shown that this timeless 2005 release sounds as fresh today as it did back then.


Tracklist:
Side One
1. Chylde of Fire
2. If Wishes Were Horses
3. Mr Haze
4. Wooden Cross (I Can't Wake the Dead)
5. Queen of Bees
6. Merlin's Daughter
Side Two
1. I See a Man
2. Sorrow Evoker
3. You Suffer
4. The Invisible
5. Attention!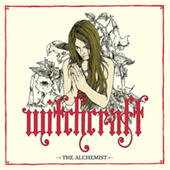 Witchcraft
The Alchemist LP
Rise Above Records

With this, their third album, Witchcraft finally achieved what they always threatened. The Alchemist was an album that saw them move away from the generic "Doom-Rock" tag into something much more vibrant and worthy. It also was their biggest seller to date and considered a a return to the form shown on their classic self titled debut.


Tracklist:
1. Walk Between The Lines
2. If Crimson Was Your Colour
3. Leva
4. Hey Doctor
5. Samaritan Burden
6. Remembered
7. The Alchemist

LOGIN
YOUR SHOPPING CART
NEW MUSIC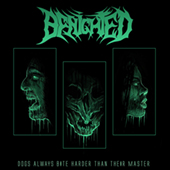 NEW MERCHANDISE