News
Biography
Integrity have been surrounded by myth, controversy, and legend for much of their almost 20 year existence. Along with fellow Cleveland monsters Ringworm, they are responsible for laying the foundation for metallic hardcore as we know it. Not only dictating, but literally defining the wave of musical darkness that continuously influences those at the forefront of the aggressive music scene. You can hear their direct influence in bands like Rot In Hell, Rise And Fall, Converge, Hatebreed, and more.

After releasing classic albums ... Read More
Integrity have been surrounded by myth, controversy, and legend for much of their almost 20 year existence. Along with fellow Cleveland monsters Ringworm, they are responsible for laying the foundation for metallic hardcore as we know it. Not only dictating, but literally defining the wave of musical darkness that continuously influences those at the forefront of the aggressive music scene. You can hear their direct influence in bands like Rot In Hell, Rise And Fall, Converge, Hatebreed, and more.

After releasing classic albums on other labels, Integrity triumphantly returned to the spotlight in 2003 with their 'To Die For' CD on Deathwish. 'To Die For' recording was a true reclamation of the throne for the band. Produced and engineered by Ben Schigel (Ringworm, Mushroomhead), the collection of eight blood boiling songs served as a musical progression, all the while embracing the approach of their influential past.

After the release of 'To Die For', Integrity toured Europe and the United States, eventually falling into a sort of restless hibernation. From that point on they only surfaced for the occasional festival or 'one-off' show appearance. All of that changed two years later when Dwid Hellion assembled his new incarnation of the band featuring both Jochum brothers (Mike now being joined by Nate on drums), as well as 'To Die For' era bassist Steve Rochourst (Ringworm, etc.). Soon Integrity began crafting ideas for what was to become 'The Blackest Curse'. The process was methodical and slow going, with members being divided between two continents. However after years on end of refining the material, the fiends convened in Belgium and began laying down tracks for the album. Though these initial sessions were a creative success for Integrity, due to time limitations they were left incomplete, forcing the material to lay dormant.

Fast forward to 2008; Integrity once again woke from their slumber, this time to tour Europe alongside longtime friends Converge, and Coliseum. This tour introduced the band to a whole new generation of aggressive music listeners. Following this momentum, the band then released their 'Walpurgisnacht' 7''EP on A389/Magic Bullet Records. As importantly, this stirring also rekindled the fire under 'The Blackest Curse' project, with vocalist Dwid Hellion recording the final vocals for the album in his home studio.

And now almost five years later, the curse has finally been cast...'The Blackest Curse' is the new album from legends, Integrity.

A ten headed beast of an album, 'The Blackest Curse' is arguably the most cohesive Integrity release of the last fifteen years. With the first crushing chords of 'Process of Illumination' it's apparent that Integrity are back in true form, following the metal/hardcore hybrid blueprint they forged themselves over two decades ago. The blitzkrieg bombardment of songs like 'Learn To Love The Lie' and 'Through The Shadows of Forever' is unrelenting, while speed demons like 'Simulacra' and 'Spiderwoven' are as uniquely frenzied as a metallic hardcore can get. It's not all aural brutality though, as 'The Blackest Curse' proves that the root of their evil can morph into all shapes and sizes. Songs like 'Before The World Was Young' and 'Take Hold of Forever' showcase Integrity's trademark melodious moments as well as their dark experimental tendencies.

With 'The Blackest Curse' Integrity never stray from their chosen artistic path. And like the few other legacy bands in existence (Motorhead, etc.), they don't ever need to. Their formulaic cohesive vision is why 'The Blackest Curse' is truly another brilliant album, adding to their intriguing and bizarre legacy. A reign that still, after over twenty years, continues to demand a cult like devotion that is 'Holy Terror' to the very core.

Hide biography
In Store

There are 7 titles from Integrity in store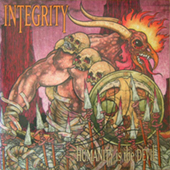 Integrity
Humanity Is The Devil CD
Victory Records

Apocalyptic metalcore. The follow up to last years 'Systems Overload'. Cover art by the legendary Pushead. Fully endorsed by Charlie Manson and the Holy Terror Church of Final Judgement.


Tracklist:
01. Vocal Test
02. Hollow
03. Psychological Warfare
04. Trapped Under Silence
05. Abraxas Annihilation
06. Jagged Of My True Destiny
07. Drowning In My Envy
08. Humanity Is The Devil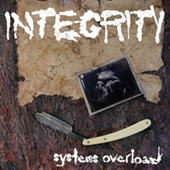 Integrity
Systems Overload LP
Organized Crime Records

INTEGRITY reinvents itself with each release. Their debut full-length, Those Who Fear Tomorrow, became a blueprint for dark metallic hardcore. Mixing what they had accomplished with TWFT, the band incorporated elements of Japanese hardcore to their ever-evolving sound. The influence of band like G.I.S.M., ZOUO, and GAUZE gave their sound a more confrontational attitude apparent in their follow up LP, Systems Overload. Originally released in 1995, Systems Overload was a shock to the hardcore scene that was focused more on politically correct ideas than the sheer brutality of the music. They reveled in being the outcasts and made no apologies. Systems Overload marks the third chapter from the first volume of one of the most loved and hated hardcore bands in history. This expanded edition contains new cover art, fold-out poster and layout by Dwid Hellion, as well as liner notes about the making of the record from Aaron Melnick, and a digital download. Embrace this dark fiend and be a part of a long and sordid history where darkness reigns supreme. INTEGRITY are a weapon of the end.


Tracklist:
1. Incarnate 365
2. No One
3. Systems Overload
4. Armenian Persecution
5. Grace Of The Unholy
6. Forevers Horizon
7. Mediator
8. Salvations Malevolence
9. Fading Away
10. Jimson Isolation
11. The Screams
12. Search For Divinity
13. Unveiled Tomorrows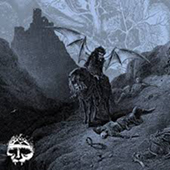 Integrity
Howling, For The Nightmare Shall Consume 2xLP


Integrity
Howling, For The Nightmare Shall Consume 2xLP
Relapse Records

Listen to a sample: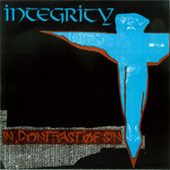 Integrity
In Contrast Of Sin EP
Organized Crime Records

2010 marks the 20 year anniversary of the infamous 'In Contrast Of Sin' 7"; the record where all of this madness began. 2010 also marks the launch of the vinyl re-releases from Organized Crime Records of the first chapters of Integrity's tumultuous existence beginning with 'In Contrast Of Sin.' Following every three to four months thereafter, the next chapter will be told. 7" includes digital download.


Tracklist:
01. Live It Down
02. In Contrast Of Sin
03. Bringing It Back
04. Dead Wrong
05. Harder They Fall


Gehenna / Integrity
Split EP
Holy Terror Records

These two bands need no introduction as they team up on this long-awaited split that featured two tracks from long-time West Coast thrash metal/hardcore lords Gehenna and one track from the timeless Integrity.


Tracklist:
01. Gehenna - A Parallel Hell
02. Gehenna - Amphetamine Psychosis
03. Integrity - I Know Where Everyone Lives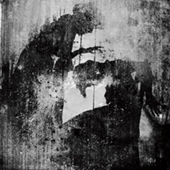 Integrity
Black Heksen Rise EP
Indie Recordings


Tracklist:
1. Black Heksen Rise
2. VVaiting for the sun (to burn your eyes out)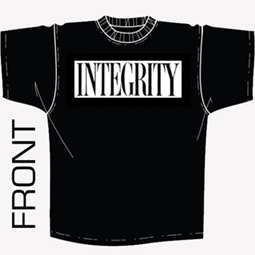 Integrity
Logo Shirt
Deathwish Records

One-color front, one-color back, one-color Deathwish Inc. logo on the left sleeve.

LOGIN
YOUR SHOPPING CART
NEW MUSIC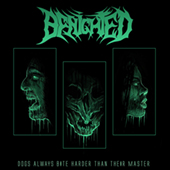 NEW MERCHANDISE