Vinyl
There are 857 Vinyl in stock


Previous Page
-
1
2
3
4
5
6
7
8
9
10
11
12
13
14
15
16
17
18
19
20
21
22
23
24
25
26
27
28
29
30
31
32
33
34
35
36
37
38
39
40
41
42
43
44
45
46
47
48
49
50
51
52
53
54
55
56
57
58
-
Next Page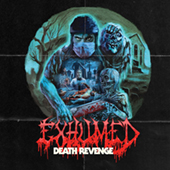 Exhumed
Death Revenge LP
Relapse Records

Listen to a sample: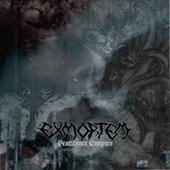 Exmortem
Pestilence Empire LP
Osmose Productions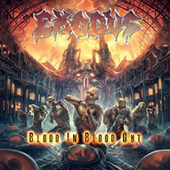 Exodus
Blood In Blood Out 2xLP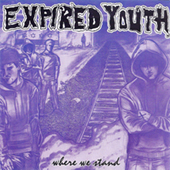 Expired Youth
Where We Stand EP
Think Fast Records

Paying homage to their peers and friends, the band has been compared to anything from the early AGNOSTIC FRONT lineup, to UNIFORM CHOICE, to that of early Chicago natives LIFE SENTENCE. EXPIRED YOUTH define all that is needed to pave the way and show that Chicago Straight Edge is still alive and well. Singing songs about emotions, broken friendships, and the perils of everyday life, the debut EP Where We Stand is a call to arms to not only everyone involved in the hardcore/punk scene, but to straightedge enthusiasts worldwide.

The Extermination vol. 2
Compilation LP


The Extermination vol. 2
Compilation LP
Flatspot Records

"The Extermination Vol: 2" compilation features tracks from Violent Situation, Downpresser, Mizery, Backtrack, No Repent, Angel Dust, Cruel Hand, Power Trip and Break Away. Vinyl version includes digital download and is limited to 650 copies.


Tracklist:
01. Violent Situation - Far From
02. Downpresser - City Of Thieves
03. Mizery - Injustice 4 All
04. Backtrack - Never Believed
05. No Repent - Got No Choice
06. Angel Dust - Lonely Bones
07. Cruel Hand - Med Head
08. Power Trip - This World
09. Break Away - Regrets Made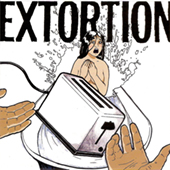 Extortion / Septic Surge
Split EP
RS Records

Australia's most prolific powerviolence band, Extortion, is back with four down and dirty tracks paying homage to Crossed Out, Infest and Negative FX, with another Aussie group, Septic Surge, brining an even uglier, dirtier powerviolence/sludge/grind that sounds like it was recorded on the same session as the Crossed Out demo.


Tracklist:
01. Extortion - Useless
02. Extortion - Insignificant
03. Extortion - Manipulated
04. Extortion - Obstruct
05. Septic Surge - SXSX
06. Septic Surge - Fogterror
07. Septic Surge - SXMXHXD
08. Septic Surge - The Filth
09. Septic Surge - Verbal Injusticies
10. Septic Surge - Disgusting Man
11. Septic Surge - HXIXPXV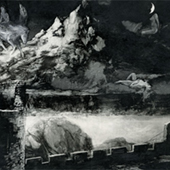 The Eye
Supremacy LP
Debemur Morti Productions

After years of lying dormant in forgotten silence, the icy menace of THE EYE has risen anew. Originally released in 1997, 'Supremacy' contained eight unholy canticles of cold, hypnotic black metal in its purest form. Conceived and executed by Vindsval, THE EYE's sole full-length explored the cruel mythos of Odinism and delved into a poetic worship of nature in its dark, repetitive compositions, foreshadowing its creator's later work with star-driven black magicians BLUT AUS NORD. THE EYE's final testament is a lost classic that has been found and elevated to its rightful place. All copies come with poster.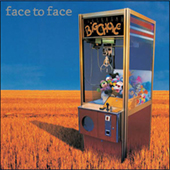 Face To Face
Big Choice (re-issue) LP
Fat Wreck Chords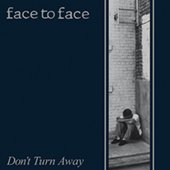 Face To Face
Don't Turn Away (re-issue) LP
Fat Wreck Chords

After much critical acclaim for their new material and months of successful tour dates, Face To Face tie a bow on their 25th year together with the re-release of their first three albums ("Don't Turn Away," "Big Choice" and "s/t"). This time around each album has an expanded track list containing bonus songs from the original recording sessions. All three have also been remastered and boast enhanced artwork that incorporates silver details to denote the 25th anniversary. Vinyl version includes digital download.


Tracklist:
01. You've Done Nothing
02. I'm Not Afraid
03. Disconnected
04. No Authority
05. I Want
06. You've Got A Problem
07. Everything Is Everything
08. I'm Trying
09. Pastel
10. Nothing New
11. Walk Away
12. Do You Care?
13. 1,000 X
14. Who You Are (bonus track)
15. Don't Turn Away (bonus track)

Listen to a sample: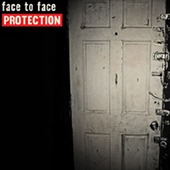 Face To Face
Protection LP
Fat Wreck Chords

FACE TO FACE: The melodic punk institution, whose songs have influenced and entire generation of bands, return to Fat Wreck Chords - the same label who released their classic debut 'Dont turn away'. Protection, the groups 9th full length album, draws from the energy of their earlier records but is filtered through the band's unique perspective as true 'lifers' in punk rock. The result is an urgent and powerful 11-song blast that recalls the melody and angst of the band's formative sound, while showcasing their greatly matured song-writing acumen. Thoughtfully penned lyrics bolster the entire album, from band favourites ' Double Crossed' and 'Say What You Want' to the vicious barb '14:59' and the emotional 'Bent But Not Broken'. Another factor in the album's outcome was the contribution of Bill Stevenson (NOFX, Rise Against, Propagandhi). After nearly two decades of Face To Face producing their own albums, the benefit of the collaboration with Stevenson is reflected in the elevated feeel of 'Protection'. Despite the fact that Face To Face doesn't need to prove anything to anyone, 'Protection' is an emphatic validation of their 25 years of massive commercial and critical success.


Tracklist:
1. Bent But Not Broken
2. I Won't Say I'm Sorry
3. Double Crossed
4. See if I care
5. Say What You Want
6. Protection
7. 14:59
8. It Almost Went Wrong
9. Keep Your Chin Up
10. Middling Around
11. And So It Goes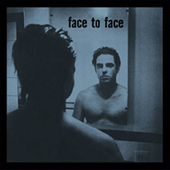 Face To Face
Self Titled (re-issue) LP
Fat Wreck Chords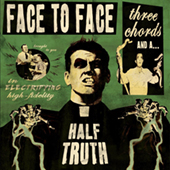 Face To Face
Three Chords And A Half Truth LP
Rise Records

Over the past 22 years, Face To Face has sold over 750,000 albums and played sold out venues all across the world, and they've done it on their own terms. The band's new album, "Three Chords And A Half Truth," was self produced and recorded at frontman Trevor Keith's home studio in Nashville, TN. Face To Face is nothing short of a legacy, and with their new release ,"Three Chords and A Half Truth," they're showing just why they've become one of the most respected and appreciated punk bands of all time. Vinyl version includes digital download.


Tracklist:
01. 123 Drop
02. Welcome Back To Nothing
03. Smokestacks And Skyscrapers
04. Right As Rain
05. First Step, Misstep
06. Bright Lights Go Down
07. Paper Tigers With Teeth
08. Flat Black
09. Jinxproof
10. Marked Men
11. Three Chords And A Half Truth
12. Across State Lines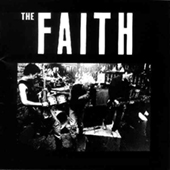 The Faith / Void
Split LP
Dischord Records

This 12" LP (on colored vinyl) was remastered and recut at Chicago Mastering Service in November 2008 and comes with a free MP3 download of the album.


Tracklist:
01. Faith - It's Time
02. Faith - Face To Face
03. Faith - Trapped
04. Faith - In Control
05. Faith - Another Victim
06. Faith - What's Wrong With Me?
07. Faith - What Do You Think
08. Faith - Confusion
09. Faith - You're X'd
10. Faith - Nightmare
11. Faith - Don't Tell Me
12. Faith - In The Black
13. Void - Who Are You?
14. Void - Time To Die
15. Void - Condensed Flesh
16. Void - Ignorant People
17. Void - Change Places
18. Void - Ask Them Why
19. Void - Organized Sports
20. Void - My Rules
21. Void - Self-defense
22. Void - War Hero
23. Void - Think
24. Void - Explode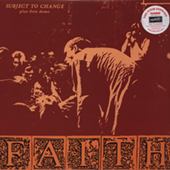 The Faith
Subject To Change Plus First Demo LP


The Faith
Subject To Change Plus First Demo LP
Dischord Records

Forming from the ashes of local DC bands SOA and The Untouchables, Faith were short-lived but had a profound impact on the early hardcore scene before members moved on to bands like Rites Of Spring and Embrace. This LP collects their 1982 'Subject To Change' record and their first demo from 1981, 19 tracks total. Vinyl version includes free album download.


Tracklist:
01. Aware
02. Say No More
03. Limitations
04. No Choice
05. Untitled
06. Subject To Change
07. More Of The Same
08. Slowdown
09. You're X'd (demo)
10. Don't Tell Me (demo)
11. In The Black (demo)
12. In Control (demo)
13. It's Time (demo)
14. Another Victim (demo)
15. Nightmare (demo)
16. Trapped (demo)
17. No Choice (demo)
18. Confusion (demo)
19. What's Wrong With Me (demo)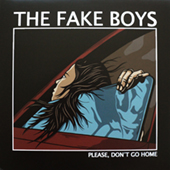 The Fake Boys
Please, Don't Go Home LP
The Shield Records

Please, don't go home contains the MCD's 'Sleepwalk' and 'poppunk is dead'. Pressed on good old vinyl for the first time. As a bonus there are 2 new songs on the LP. Includes a downloadcard for the whole album.


Tracklist:
01. Destroy The Radio
02. Active Reactive
03. She Calls Me America
04. Planet
05. Oceans
06. Sleepwalk
07. My Best Face
08. Suckfest
09. Wasted
10. Cement Shoes
11. In The Swamp
12. Pop Punk Is Dead
13. Eat Leaves
14. Bugs
15. Dirge
16. Raymond And James

Previous Page
-
1
2
3
4
5
6
7
8
9
10
11
12
13
14
15
16
17
18
19
20
21
22
23
24
25
26
27
28
29
30
31
32
33
34
35
36
37
38
39
40
41
42
43
44
45
46
47
48
49
50
51
52
53
54
55
56
57
58
-
Next Page
LOGIN
YOUR SHOPPING CART
NEW MUSIC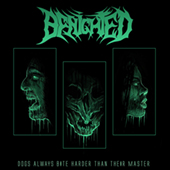 NEW MERCHANDISE